Nukleuz Trance Anthems 2009
Having seen in our 11th birthday this year we have a special present for you all – the Nukleuz Anthems 2009 series – which sees the biggest tunes in our arsenal coming together in a series of DJ mixes.
Not only have we been home to some of the world's greatest dance stars, such as Mauro Picotto, Mario Piu and BK (to name just a few!) we are continuing to strive forward with new artists such as Pierre Pienaar (P.H.A.T.T) and Fonzerelli making an appearance.
This album is designed to give you a classic selection of the best Trance that we have to offer – proof that we have earned the titles of Music Week Label of the Year and the UK's # 1 Vinyl label for 3 years in a row – as well as having the last ever vinyl only Top 40 – and that we are still at the top 11 years on!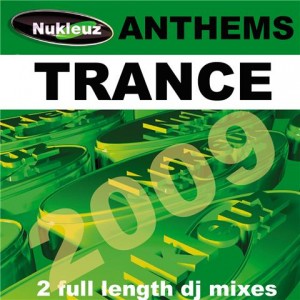 Trance Anthems – Tracklisting
1. Mauro Picotto – Lizard (Claxxix Mix)
2. Mario Piu – The Vision (Vision 1 Mix)
3. CRW – I Feel Love (JamX & DeLeon Remix)
4. Mauro Picotto – Komodo (Tea Mix)
5. Joy Kitikonti – Joyenergizer
6. Melodia – Motion Theory (Northstar Remix)
7. P.H.A.T.T. ft Kate Smith – Worlds Apart (Original Mix)
8. Mauro Picotto – Pulsar (Tiesto Remix)
9. Mauro Picotto – Back To Cali (PUSH Mix)
10. Vinylgroover & The Red Hed – Everlasting (Midnight Mix)
11. Carl Nicholson & Nick Rowland – Trancentral
12. Nick Lunn & YOMC – Energize
13. 4 Rising Stars – Feelin Me (Phynn Mix)
14. CRW – Like A Cat (Tillmann Uhrmacher Remix)
15. BK – Revolution (DJ Energy Remix)
16. CRW – Precious Life (Lost Witness Remix)
17. Megamind – Taub
18. Lava aka Tillmann Uhrmacher – Spring Time (Let Yourself Go) (June Mix)
19. Simon Foy – Inside Out (Freefall Mix)
20. Fonzerelli – Infinity (P.H.A.T.T. Dub)
Related Posts