Nukleuz Trance Classics 2011 – Coming Soon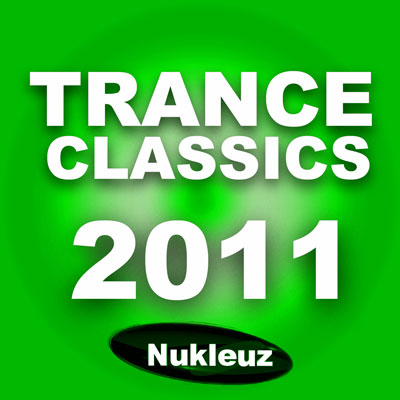 Pre-Order from iTunes:
http://itunes.apple.com/preorder/nukleuz-trance-classics-2011/id412857227
Thrown out all your vinyl? Scratched them to pieces? Then why not collect 24 of the biggest tracks from the Nukleuz back catalogue in glorious DJ friendly digital form with 2 free DJ mixes as a bonus? Nukleuz's parent company celebrates 20 years of hits, anthems and championing the hottest undiscovered talent in 2011. To celebrate the current staff have delved into the vaults of history and carefully selected our favourite tunes, classics, underground anthems and underrated gems from across the years. Each mixed and mastered by Nukleuz Head of A&R Dave Louca and our studio production hero Josh McInnes aka JAKAZiD.
NUKLEUZ TRANCE CLASSICS 2011
"For Nukleuz Trance Classics 2011 we have raided the archives and put together what we consider to be our finest uplifting trance releases from over the years picking out personal favourites that we are proud to have signed and some of the most critically acclaimed club anthems that always get the hairs on our necks standing on end including the tune that first made me a fan of Nukleuz Records in the first place, the Midnight Mix of Vinylgroover & The Red Hed "Everlasting". Carl Nicholson & Nick Rowland "Trancentral" was one of the most memorable records that I remember signing to Nukleuz when I first took on the role as Head of A&R. We loved the uplifting and passionate vibes in the record but were really not sure quite how it would sell in the new iTunes digital age but decided to take a chance. It then went on to become one of our biggest selling downloads of the year for 2 years!
Another memorable moment was Mauro Picotto's return to Media Records UK in 2007 after leaving to persue his DJing and his own label. "Gonna Get Ya" was a monster bootleg release of Danielle Pappini's "Church Of Nonsense" and the classic "Gonna Get Ya" vocal. The record just kept growing and picking up huge support. Marcel Woods, who had always wanted to remix for Mauro Picotto and was just the gravy to top off an incredible package.
One of the defining moments for the label was Pierre Pienaar (aka P.H.A.T.T. / Melodia) joining the label in 2006 with his track "Worlds Apart (ft Kate Smith)" which absolutely blew me away. His talent was immediately clear and quickly became our Head of Nukleuz Trance with regular releases and remixes on the label. His biggest tracks feature here including Melodia "The Way" and the Melodia remix of Andy BopH "Rat Trap". Pierre also brought in some huge new talents in the form of Jason Van Wyk and TFT to name a few both of whom feature on the mix. Darren Styles one of the biggest names in UK dance music has achieved numerous top 40 hits and an army of adoring fans saw some of his earliest trance releases on Nukleuz including "Black Magic", "Chemical Love" and "Feelin Me" (with The Disco Brothers).
For those of you looking for the harder edged techier material that came out of the world famous Italian offices of Media Records in the mid-90s and early 2000's which launched the careers of Mauro Picotto, Mario Piu, Gi-Gi D'Agostino, Joy Kitikonti, Cappella and CRW among others check out the forthcoming Trance Classics album." Dave Louca – Head of A&R @ Nukleuz.
NUKLEUZ TRANCE CLASSICS 2011
MIX 1
1) Andy BopH 'Rat Trap – Melodia Remix'
2) TFT 'Lucid Awakening'
3) Melodia 'The Way – Clarks & Setrise Remix'
4) Melodia 'Motion Theory – North Star Remix'
5) Carl Nicholson & Nick Rowland 'Trancentral'
6) Jason van Wyk presents North Star 'Out Of Sight'
7) Will Atkinson 'Perpetual Sunrise – Pierre Pienaar Remix'
8) Camena 'Sarabande – Max Power Phat Strings Remix'
9) JamX 'Liebe – P.H.A.T.T. Remix'
10) Picotto vs Papini 'Gonna Get Ya – Marcel Woods Remix'
11) Technikal 'Terminal Velocity'
12) Fonzerelli 'Infinity – P.H.A.T.T. Dub'
MIX 2
1) PPK 'Slave To The Rhythm – Mauro Picotto Mix'
2) Vinylgroover And The Red Hed 'Everlasting – Midnight Mix'
3) 4 Rising Stars 'Feelin' Me – Phynn Mix'
4) Project 101 'Drifting – Darren Styles & Mark Breeze Remix'
5) Darren Styles 'Black Magic – Original Mix'
6) Todd Tobias 'Under One – Original Mix'
7) Darren Styles & Mark Breeze Present Futureworld 'Chemical Love – Infextious Club Mix'
8) P.H.A.T.T. ft Kate Smith 'Worlds Apart – Original Mix'
9) BK 'Revolution – DJ Energy Mix'
10) Nick Lunn & YOMC Present Tecno-Punk 'Energize – Paul Van Dyk Edit'
11) Greg Brookman 'Freeflow'
12) Stu Allan 'A Feeling – Elemental Remix'
Pre-Order from iTunes:
http://itunes.apple.com/preorder/nukleuz-trance-classics-2011/id412857227
Related Posts