Nukleuz Trance Sessions Volume 2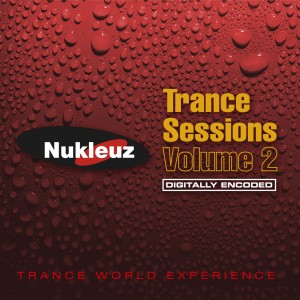 Trance Sessions Volume 1 has been a consistent selling album throughout 2005 both on CD & iTunes where is has an enthusiastic response from trance fans from all over the world. This is the point of the album. It reflects a varied selection of extremely respected international producers and remixers. Nukleuz has supported and been successful with trance and European tech/trance music for a long time. These Session albums draw upon the historical quality tunes and some fantastic new cutting edge tracks. When you have Tillmann Uhrmacher, Push, Blank & Jones and Tiesto mixes alongside the new school of Montana, Technikal & P.H.A.T.T. infused with a bit of Alphazone, BK & Lab 4, you know this is going to be one hell of a trance trip!
This has all been selected and mixed by Ministry Of Sound Radio presenter Jon Costa of the Nukleuz Future Sound of Hard Dance show. Jon knows these tunes inside out. He found a career in music through a passion for such scene defining moments.
Trance is an enduring sound with a passionate fanbase. The support for Sessions 1 both surprised and encouraged Nukleuz into making the second CD. Nukleuz will be promoting the album primarily around the Wildchild / Gatecrasher event in London in February 2005. These are the two biggest UK trance organisations and they have a direct line to the UK's most passionate trance supporters.
Trance Sessions Vol 2 draws upon some of Nukleuz's classic trance tracks and new mixes of tracks such as Lizard alongside current anthems like
Stu Allan 'A Feeling' (Technikal Mix) which was # 1 in the DMC Hard Dance Chart! All this as well as offering brand new and unheard album exclusive tracks such as 'Follow Me Away' & 'Walk Away' alongside unreleased tracks from the Nukleuz catalogue! This is a great package for any trance fans!
1. JoBabe 'Follow Me Away' (Pete Pritchard's Soundtrack Mix)
2. CRW ft Veronika 'Like A Cat' (Tilmann Uhrmacher Remix)
3. Mauro Picotto 'Back To Cali' (Push Remix)
4. Mauro Picotto 'Iguana' (Blank & Jones Remix)
5. Michael Splint pres Eruption 'I Feel Free' (Original Edit)
6. Carl Nicholson & Nick Rowland 'Trancentral'
7. Stu Allan 'Take My Hand' (P.H.A.T.T. Vocal Remix)
8. Mario Piu 'Incanto Per Ginevra' (Original Mix)
9. Dariush 'IRA' (Original Mix)
10. Mauro Picotto 'Pulsar' (DJ Tiesto Remix)
11. Mauro Picotto 'Lizard' (Montana Mix)
12. Nukleuz Kollective pres Cortina 'Higher' (PPD Remix)
13. James Lawson & Carl Nicholson 'Times Like These' (Carl Nicholson 2005 Remix)
14. Audioscape 'Walk Away' (P.H.A.T.T. Vocal Remix)
15. Stu Allan 'A Feeling' (Technikal Vocal Remix)
16. BK & Lab 4 'Final Chapter'
17. Cloudchaser 'Aerodynamic' (Alphazone Remix)
Related Posts