ONE AWSUM XMAS – 5th December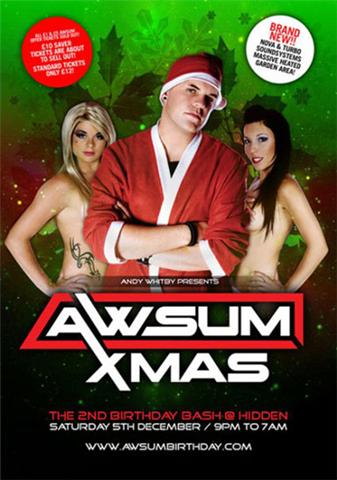 AWsum has smashed its way across the UK and the World in 09! From headline grabbing gigs in London to jaw dropping Antics in Norwich, Swansea, Middlesbrough and beyond AWsum has fought its way ahead of the pack. This Autumn AWsum is turning up the bpms and laying down the law at every single MAJOR Hard Dance event in the UK from Westfest and Atomik to Storm and Bionic. Pioneering a new, no-holds-barred, no-genres-left-untouched approach to the Harder Nation, AWsum turns up the heat at no less than 8 massive headline shows, but this is not all, not by a long shot! AWsum makes a very welcome return to the mighty London for its most audacious show yet. Ladies and Gentlemen of the Harder Clan we bring you…
ONE AWSUM XMAS
The 2nd Birthday Bash
Saturday 5th December 2009
HIDDEN
100 Tinworth St, London, SE11 5EQ
Set across 3 Arenas we bring you a line up you will never expect and the maddest party animals in the country and Hidden as you have never ever seen it before as we transform the South London Hotspot into a Xmas Wonderland.
***** MAIN ARENA *****
ANDY WHITBY 2 HOURS – HTTP://ANDYWHITBY.COM
ALEX KIDD
ROB TISSERA
GAMMER
TECHNIKAL
KLUBFILLER
MDA & SPHERICAL
***** FILTH ARENA *****
PAUL GLAZBY VS CALLY GAGE 90 MINUTES (WORLD XCLUSIVE)
ANDY WHITBY VS ADAM M 90 MINUTES (WORLD XCLUSIVE)
KARIM
LUCY FUR
RIGGSY
ELLE
SHENTON
WAYNE SMART
OSTYN
***** EURO ARENA *****
ASYS (90 MINS)
FRISKY (90 MINS)
BRAIN M & MC BUNN
JON THE BAPTIST & CHUCK-E
NICK THE KID (HINDSIGHT TEN ALBUM TOUR)
CAZ WOOD
SHOCK: FORCE
TICKET INFO:
ALL £1 AND £5 AWSUM XMAS OFFER TICKETS SOLD OUT!
£10 SAVER TICKETS SELLING FAST!
STANDARD TICKETS ONLY £12!
TICKET OUTLETS
http://www.moreonthedoor.com
http://www.ticketweb.co.uk
http://www.dontstayin.com
http://www.viewtickets.co.uk
http://www.skiddle.com
DRESS CODE:
Reds, Whites, Sexy Santas, Naughty Helpers…you know what to do!
HTTP://AWSUM.CO.UK
Facebook
HTTP://AWSUM.TV
Related Posts