Organ Donors # 2 in TID Trance Chart
Taken from Organ Donors "Under The Knife Album Sampler 2" "Locked Trance – K90's Under The Knife Extended Remix" is currently sitting pretty at #2 in the Trackitdown Trance chart and flying up the top 100 Trackitdown overalll chart.
This is the second of 3 Organ Donors "Under The Knife Album Samplers" and this package includes Under The Knife mixes of "Wave Guide System" from Scott Atrill and Fausto. Mixes of "Mental Atmosphere" from Andrea Montorsi and Louk, and two K90 Under The Knife mixes of "Locked Trance".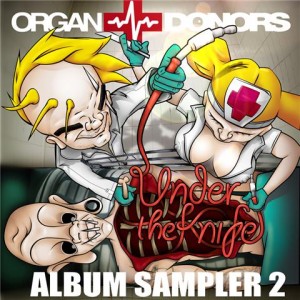 Mark Doggett is one of the founding members of KA90, and he began making noise and upsetting the neighbours from a makeshift studio in his kitchen years ago, during the sunny summer of 1991. Fast forward over a decade and K90 is now an internationally recognised and highly respected producer, performer and DJ with a fan base that's spreading throughout the globe.
With his famously energetic stage presence, K90 has been requested to perform at many of the worlds premier dance events in both live and DJ capacities. Some of the many venues he has played so far include 'Godskitchen – Global Gathering', 'Creamfields', 'SW4' and 'Tidy Weekender', as well as 'Dance Valley' and 'Q-Base International Dance Festival' (The Netherlands), the long running 'Advent*jah' Festival (Australia), The Gallery (South Africa) and 'Checkpoint Charlie' (New Zealand).
Alongside these live performances, K90 also hits regular headline slots at some of the UK's biggest clubs such as 'Polysexual', 'Frantic', 'Slinky', Wildchild' and 'Goodgreef' and you are faced with what is now an award winning ('Best Live Act' – 2008 Hard Dance Awards) global brand.
Credited for his numerous productions, releases and remixes K90 is responsible for creating the clubland phenomenon that is 'Red Snapper' – arguably one of the most renowned harder dance tracks ever made! Following on from a long and fruitful relationship with long time record label 'Recover Records' Mark's love affair with the dance music industry continued to grow with the launch of his own label 'Dataless Recordings' imprint in 2004. With the label project now in its fifth year this greater challenge has given an artist whose name and reputation are already synonymous with quality, license to develop the K90 Empire even further.
Related Posts