Organ Donors – Under The Knife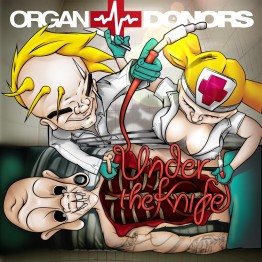 Hard Dance heavyweights Organ Donors land a knockout right hook with Under The Knife – the unique and inspired album that's their 3rd to date over their impressive 15 year music career as DJs, Live Act and prolific producers, notching up 100+ productions on Nukleuz, Tidy and Kiddfectious.
The Organ Donors have become one of the world's most exciting DJ/Production duos via a combination of their amazing Audio Surgery live show and albums that have been recognised as defining moments within the genre.

Under The Knife is now available at:
Support so far:
Anne Savage: Wicked stuff!
Andy Moor: Mark sherry is best mix!!
Cally Gage: Excellent mixes […] Technikal steals the show though, excellent piece of work!
Proteus: I have played the new Organ Donors remixes at my gigs lately and they work very well!! Especially Zany's Under The Knife remix has been blast at my sets!
Brothers in mischief Matt and Scott Harris wanted this album to be more than just an album project, it's about a full reinvention of their biggest material, a full live tour and collaboration and showcasing the wealth of talent emerging from the scene around the world. "Under The Knife" was born, bringing on board all of their favourite artists and producers in the scene today to reinvent their stunning back catalogue in their own trademark styles – BK, Scott Atrill, Alex Kidd, Technikal, Mark Sherry, James Allan, Cally & Juice, Will Atkinson, Vandall, Dr. Willis, Vinylgroover, Zany, DJ Choose, Mac 'n' Taylor, Neal Thomas, Dark By Design, Joe E, Wragg & Log:One, FJ Project, Mark EG, Fausto, Kidd Kaos, Scot Project, Luca Antolini, Louk, Thilo & Evanti, and Joey V.

TRACKLISTING:
1) Under The Knife Intro
2) In Power – Technikal Under The Knife Remix
3) In Power – Fabio Stein Under The Knife Remix
4) In Power – DJ Choose Under The Knife Remix
5) Locked Trance – K90 Under The Knife Remix
6) 99.9 – Mark Sherry & James Allen Under The Knife Remix
7) Wave Guide System – Scott Attrill Under The Knife Remix
8) 4 Tribes – BK Under The Knife Remix
9) 4 Tribes – Joey V Under The Knife Remix
10) 4 Tribes – Will Atkinson Under The Knife Remix
11) Locked Tight – Neal Thomas Under The Knife Remix
12) Blackout – Mac 'n' Taylor Under The Knife Remix
13) Looking For Drugs – Vandall Under The Knife Remix
14) Mental Atmosphere – Andrea Montorsi Under The Knife Remix
15) Mental Atmosphere – Louk Under The Knife Remix
16) 99.9 – Scot Project Under The Knife Remix
17) Rhythms Divine – Sam Punk Under The Knife Remix
18) Rhythms Divine – Organ Donors Under The Knife Remix
19) Wave Guide System – Fausto Under The Knife Remix
20) 99.9 – Kidd Kaos Under The Knife Remix
21) Blackout, Luca Antolini Under The Knife Remix
22) In Power, DJ Wragg & Log One Under The Knife Remix
23) Locked Tight, Thilo & Evanti Under The Knife Remix
24) Whats UP, Gaz West Under The Knife Remix
25) Blakout – DJ Zany Under The Knife Remix
26) Donors Dick's (Outro)
Related Posts