The coolest MIDI controller ever?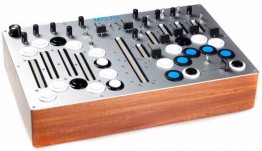 What do you do when you can't find a MIDI controller that suits you? Well, you could always take a leaf out of Moldover's book and create your own! Apparently he wasn't happy as all standard controllers lacked the "intuitive tactile response" that he really really needed.
The good thing is, you can buy your own, when Moldover ships 20 of these limited edition beauties in March. The only snag is the price tag, at around £1,100 these don't come cheap! They are however equipped with 10 ultra-responsive touch strips,  24 competition-grade arcade buttons, rubberized knobs, rugged faders and burly toggle switches to create a unit that should stand the test of time.
Mojo is a 12-inch by 18-inch mahogany box, that's also a Class-compliant USB device (no driver to install) but there is an Ableton Live MIDI map available.
You can visit http://moldover.com/buy to order yours!
Related Posts