Touch DJ iPhone app released
The Touch DJ iPhone app is the result of Amidio and DanceMusicHub.com combining forces to release the first DJing app for the platform. Touch DJ was launched in the app store on 18/11/09 and is already being touted as a package that will revolutionise the way iPhone users interact with their music. We aren't going to pretend that you are going to see Tiesto spinning at Privilege on this app, but it does look to have some interesting features.
Touch DJ is the first DJ application for the iPhone platform and offers real-time independent manipulation of two MP3 files, much in the same way DJing software for your computer can. The difference revolves around the visual interface, which is used to mix rather than the standard technique of monitoring with a separate headphone feed. By manipulating the graphic display of the track waveforms next to each other, users can combine tracks and beats to produce individual mixes.
Scratching, looping, positioning, equalization, effects and pitching is all controlled through buttons placed in and around the waveform. Replacing headphones with technology that enables the visual cueing of tracks means the audio output on the iPhone and iPod Touch can be used to plug into sound systems. This means Touch DJ is arguably the world's most portable DJ console and music library. And for traditional DJ's who prefer cueing with headphones, simultaneous mixing and sound amplification can be achieved with the use of a splitting adapter.
As a bonus, Touch DJ is shipped with 25 new release dance tracks so it can be used immediately after download. DanceMusicHub added an international flavour to the app by licensing tracks from a variety of emerging labels from across the globe. Comments from customers include: "1 of the Best apps on ITunes", "I would have spent more $", "A must have for any DJ", "Awesome in every way", "Buy it".
While it's hardly competition for the likes of Pioneer CDJs, it looks like it could be an interesting new way for people to play around with ideas on the move, and share mixes easily across the iPhone platform.
Touch DJ is available at the AppStore worldwide for USD$19.99.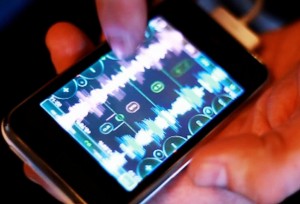 Related Posts