Trance Adrenaline 3: Mixed By Pierre Pienaar – Pre-Order on iTunes now!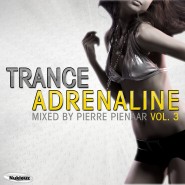 The critically acclaimed Trance Adrenaline series returns with volume 3 mixed and compiled by Head of Nukleuz's respected Green label Pierre Pienaar aka P.H.A.T.T. / Melodia). Over 2 DJ Mixes Pierre drops anthems from the likes of FonzerellI, Richard Durrand, Phillip Alpha, Daniel Kandi, Lost Witness, Dash Berlin, Mark Sherry and Beat Service as well as his own killer cuts and upfront exclusives.
Combining music from some of the hottest international trance labels including Anjunabeats, Direct Drive, Enhanced, Flashover, Blackhole, Supreme and of course Nukleuz Records.
Pierre Pienaar is without question one of Trance's most exciting new faces, even having according to DJ Mag's Simon Eve, firmly established himself as an A-Lister. Gaining plays from Paul Van Dyk, Dave Pearce, Blank & Jones, Carl Cox, Ernesto vs Bastien, Marcus Schossow, Lange, Lisa Lashes, Adam White, Sean Tyas, Charlie G and many more.
Dave Pearce "Pierre's mixes always go down a storm in my sets"
Lost Witness "Pierre Pienaar is a formidable young producer who has crashed onto the scene with his own inimitable brand of uplifting trance…one to watch"
Hailing from Namibia dance prodigy Pierre Pienaar has made a big impression on the UK & Worldwide club scenes as one of a handful of defining dance producers with an immense natural talent for crafting catchy, uplifting and euphoric trance sounds across all styles and for any occasion. 2009 has seen him spread his wings in all directions as manager for trance label Nukleuz Green which has allowed him to solidify the sound he's known for, which is a combination of high energy, uplifting melodies, but at the same time cultivate and experiment with new sounds and new ideas.
Tracklisting
DJ MIX 1
1) Melodia 'Next To You – Clarks Remix'
2) Aaron Olson 'Empathy – Electro Mix'
3) Fonzerelli ft Digital Glitter 'Feel The Love – Fonzerelli Mix'
4) Vision Control 'Breather – Sparky Dog Remix'
5) Jay Saunders ft Chilli 'Reason For Being – Trance Mix'
6) Clarks 'Senza Fine – Melodia Remix'
7) Scott Lowe & Duncan Brewer 'Orion's Realm – Original Mix'
8) Javah ft Indian Princess 'Look Don't Touch – Melodia Remix'
9) Magic Sound 'Catharsis – Magic Sound Remix'
10) Jay Saunders Ft Marcie 'Summer Breeze – Melodia Remix '
11) Norin & Rad Vs. Recurve 'The Gift – Original Mix'
12) Mike Danis '365 – Original Mix'
13) Nianaro 'Life Is Short – Original Mix'
14) Vincent De Jager 'In Boundless Light – Original Vocal Mix'
15) Richard Durand featuring Ellie Lawson 'Wide Awake – Dub Chorus Mix'
DJ MIX 2
1) Phillip Alpha & Daniel Kandi 'Sticks & Stones – Beat Service Rmx'
2) First State featuring Sarah Howells 'Reverie – Dash Berlin Remix'
3) Horizon 'I Don't Wanna – Lost Witness Mix'
4) Pierre Pienaar 'Breeze – Javah Remix'
5) Rene Ablaze & Emdee 'Hello World – Blue Tente Balearic Remix'
6) T.O.M. & Alpha Force 'Paradice – Original Mix'
7) Tritonal feat. Cristina Soto 'Lifted – Mat Zo Remix'
8) Claessen & Martens 'The Man Who Knew Too Much – Mark Sherry's Outburst Remix'
9) P.H.A.T.T. 'Isis – Original Mix'
10) Fast Distance 'Pasadena – Original Mix'
11) Nitrous Oxide feat. Aneym 'Follow You – Club Mix'
12) Katy Ruthkovski 'Polar Lights – Original Mix'
13) Pierre Pienaar 'Always – Ex-Driver Remix'
14) Activa 'Telic – Part One'
15) P.H.A.T.T. 'Without You – Original Mix'
For more information on Pierre Pienaar visit:
http://www.pierre-pienaar.com/
http://www.myspace.com/pierrepienaar
Related Posts