Trance Fetish: Mixed by DJ da Dominator
1 EUPHORIC ALBUM, 1 PUMPING MIX
18 AMAZING TRANCE RECORDS
Nukleuz launch Volume 1 of our Fetish series specifically aimed to cater for the growing demands of the global fetish scene and the fantastic music that can be heard at events in clubs all over the world. Trance Fetish – Dark Side Of The Room has been mixed by rising star DJ Da Dominator – a name who needs absolutely no introduction in the fetish clubbing scene. Resident DJ at 4 of Europe's top fetish nights and tech-trance producer with 3 recent singles released on Nukleuz and continued support from none other than Paul Oakenfold – who better to mix this fantastic album. Expect to hear tracks from the likes of Organ Donors, Melodia, VinylGroover, Cortina, P.H.A.T.T., Darren Styles, BK, DJ Da Dominator himself and many more in this 80 minute mix of some of the biggest tunes to hit fetish clubs across the globe!
Release Date: 14th May 2012
Listen to DJ Da Dominator's Promo Minimix here:

Download From:
iTunes
Beatport
Juno Download
Trackitdown
Release Date: 14th May 2012
Tracklist:
01 00:00 P.H.A.T.T. – H3X
02 02:51 Fortuna & Casus – White Russian
03 06:39 Sanya Shelest & Dima Revert – Forward Only
04 10:63 DJ da Dominator – Hidden Feelings
05 15:13 Vanity In Mind – Let The Darkness In
06 19:08 DJ da Dominator – Lost In Thought
07 25:05 Daniel Loubscher – Damage
08 29:27 DJ da Dominator – Let Yourself Go
09 34:47 Melodia – It All Comes Back (Lee Haslam Remix)
10 38:15 BK – Revolution (Lee Haslam Remix)
11 43:05 VinylGroover – Everlasting 2010 (Midnight Mix)
12 47:40 Cortina – Music is Moving (Kumara Remix)
13 51:53 JamX – Guitarro – (Nick Larson Remix)
14 54:27 S.H.O.K.K. – Bobby Carraro (Darling's Revenge Remix)
15 59:03 Melodia – Phoenix (Will Atkinson Remix)
16 1:02:13 Fonzerelli – Infinity (P.H.A.T.T. Dub)
17 1:05:46 Project 101 – Drifting (Darren Styles Remix)
18 1:09:20 Organ Donors – In Power (Fabio Stein Remix)
———————————————————————————————————————————
Buy this fantastic album at:
iTunes, Beatport, Juno Download, Trackitdown, Audiojelly, DJ Download, 7Digital & more
Download From:
iTunes
Beatport
Juno Download
Trackitdown
Release Date: 14th May 2012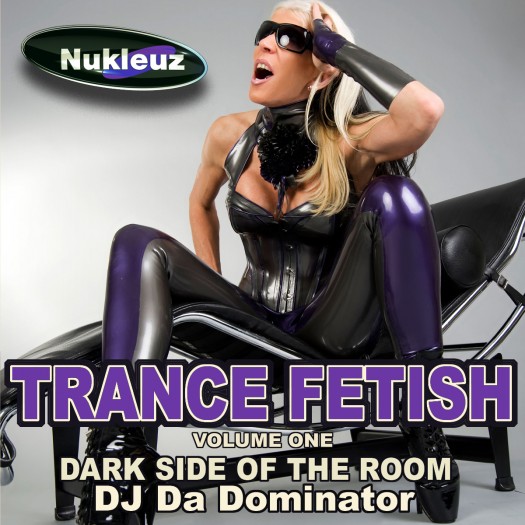 ———————————————————————————————————————————
WE INTERVIEWED DJ DA DOMINATOR to find out exactly what his thoughts were on this fantastic mixed album:
DJ Da Dominator in da Mix:
What does this mix mean to you?
"It was really an honour when Nukleuz asked me if I would want to make a mix compilation release on their label. Nukleuz always was one of my favorite Record Label's from '99 till 2005, and still love the Nukleuz tunes! I still have all those Nukleuz Vinyl/Records in their boxes, never will do them away. I was feeling like a little kid in a candy store, with my wish-list sent to Nukleuz Office to receive all those Nukleuz Tracks. Thank You Santa Nukleuz. :-)"
How did you chose just 18 tracks from such a large catalogue?
"All those tunes I had selected for this Nukleuz Compilation Mix, I could and would use at my residents party's Toxic, Dominatrix, Boudoir Bizarre, & the BoeddhaClub Parties. I really love the 'Old School' influences from early 90's, you can also hear in this mix. (Revolution, Music is Moving, etc.). Drums, raw, big beat, breakbeat, energy, no long breaks, sweet vocals and warm sounds, trying to tell an uplifting story."
You mentioned an 'uplifting story', want to tell us more…?
"Starting with sweet nice slow tunes, to get *you (*The listener) in the flow of the mix. While your head is moving with the beat, your leg is tapping, or your fingers drumming, then I know, it will be the right flow. (LOL I just watched my girl while I mixed this Nukleuz mix).
I ain't a regular DJ that just puts the track into the other tracks, I want to play with those tracks, play with my mixing skill's, I love it! Turntable's, CD Players and Mixers are my music instruments.
Building up the mix is like good sex: Touching how far I can go, Passion, Feeling, Emotion, Trying to find out how far and hard *you (*The listener) can get.. Building this up to several climaxes, to the top!
The mix I mean, you naughty fan's! :-P
The beat will be pumping, the flow will build up with more energy.
This mixing all, with a lot feeling to get you with me, in this story I want to tell. The warm sounds and vocal's for to get those beautiful girls on the dance-floor, with closed eye's into the flow of the mix, total in trance,
and the ruff beat, pumping, bouncing, exciting energy for the men,
who are follow those exciting girls to bounce on the dance-floor. ;-)
Climaxes will follow for each, nobody will be forgotten!
TechTrance will let You flow, Just follow the stream, it wont let you be Lost in Thought, There are no Hidden Feelings, express yourself on the dancefloor, just follow your heart, LET YOURSELF GO !
Just be yourself!"
Is there anything else you'd like the fans to be aware of?
"*Warning:
Don't play this upbuilding DJ da Dominator Mix in your car,
DJ da Dominator takes no responsibility,
any penalty of justice is own responsibility!
Enjoy da ride!"
Thanks for this brilliant mix Marcel! Looking forward to more in the future.
"Thanks all for support!
Cheers,"
xxx
———————————————————————————————————————————
Follow DJ da Dominator:
Website: www.DJdaDominator.nl
Facebook: https://www.facebook.com/DJ.da.Dominator
Artist Page: https://www.facebook.com/pages/DJ-da-Dominator/54986342939
iTunes: http://itunes.apple.com/artist/dj-da-dominator/id474957333
———————————————————————————————————————————
To get your free copy of "DJ da Dominator – Let Yourself Go" please fill out the following form and an e-mail will be sent back to you containing a link to download the mp3:
[WARNING – This free track is not available yet]
Related Posts