Vinylgroover & The Red Hed – Everlasting 2010 – Full Release
Vinylgroover & The Red Hed – Everlasting 2010
Full release on all good download stores!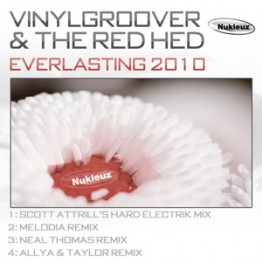 Championed by Radio 1's DJ Kutski and gaining huge support from the likes of Phil York (Lisa Lashes/Lashed Music), Nikki Elise (Total Kiss), DJ Choose, Sam Townend (Tidy DJs) and Cally & Juice, Nukleuz have revamped one of their biggest trance anthems from 2002 gets a full shiny new makeover for 2010 and a complete digital release of all the classic mixes for the first time ever! Alongside the Midnight Mix, Original Mix, Darren Styles, Edison Factor, PTP and Flyin & Storm Mixes from back in the day Vinylgroover & The Red Hed have unleashed some of the hottest talent in hard dance and trance on their remix parts and let them run wild with them. The result are 4 killer new remixes set to smash up raves & clubs worldwide for quite some time from Scott Attrill (aka Vinylgroover), Melodia (aka Pierre Pienaar), Neal Thomas and Allya & Taylor.
Download from
Trackitdown
DJ Download
Juno Download
Beatport
Audiojelly
iTunes
Dance Music Hub
Remixes include:
Scott Attrill's Hard Electrik Mix
Melodia Remix
Neal Thomas Remix
Allya & Taylor Remix
Midnight Mix
Original Mix
Darren Styles Remix
Edison Factor Remix
PTP Remix
Flyin & Storm Remix
Related Posts