Reduced to clear – All Nukleuz vinyl must go! SALE!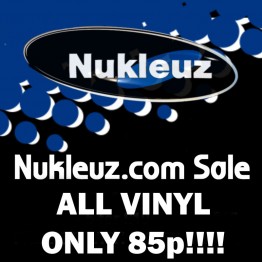 NUKLEUZ VINYL SALE: HUGE VINYL CLEAROUT
Nukleuz are moving offices and need to shift over 15 years worth of vinyl from their store room! Everything must go before Friday 26th November. Whilst stocks last.
All vinyls are only 85p!!! Simply head to Discogs, find the vinyl you want, and follow the online ordering procedure. Postage & Packaging costs are extra.
Purchase from Craig_Nukleuz
http://www.discogs.com/user/Craig_Nukleuz
Browse Nukleuz Collection
http://www.discogs.com/collection?user=Craig_Nukleuz
If you would rather buy directly from us we can accept payment via PayPal. Simply email us with a list of the vinyl you want to craig@nukleuz.co.uk and we will get you a quotation.
Currently in-stock:
NUKP0168-PPK-Slave To The Rhythm
NUKPB0330-Taiko-Silence
NUKP0354-Nukleuz In Ibiza 2001-Limited Edition Sampler
BXRP0391-Mario Piu vs Fabio MC-Invaders/Away
NUKP0406-Lisa Pin-Up-Turn up the Sound
NUKP0412-Vinylgroover & The Red Hed-Everlasting
BXRP0422-Mario Piu-Believe Me
0432FBNUK-Infextious-Let me Fly
0438FABXR-Joy Kitikonti-Joydontstop 2
0439PANUK-Organ Donors-4 Tribes (Wanna Be Startin' Somethin')
0439PNUK-Organ Donors-4 Tribes (Wanna Be Startin' Somethin')
BEAUP0442-Tom Neville-Feel Alright
NUKP0448-Vinylgroover & The Red Hed-Hardbeat EP 21
0450FANUK-Lisa Pin-Up-Blow Your Mind (I Am The Woman)
0450FBNUK-Lisa Pin-Up-Blow Your Mind (I Am The Woman)
NUKF0450-Lisa Pin-Up-Blow Your Mind (I Am The Woman)
NUKP0452-Andy Farley-Your Fear
BXRP0459-Various-Noise Maker Vol. 10
0462PNUK-L.O.S.P-The Sound Of Liberty
0465PNUK-Various-Hard Trance Vol 2
0468FANUK-DJ Nation-Bootleg Edition
0472PBEA-Various-F-Cubed (Future:Fat:Funk)
0475PNUK-Champion Burns-Attitude
0479PNUK-The Moon-Shake It
0480PNUK-BK-The Collaborations EP
0482PNUK-Next Generation Ep-Next Generation EP
0485PNUK-Vinylgroover & The Red Hed-Kokane
0487PNUK-O.S.I.R.I.S-Oneness with the Universe
0488PNUK-Lunn & Janes-Alive
0489FANUK-Real & Richardson ft JoBabe-Sunshine on A Rainy Day
0490PANUK-James Lawson-Frantic Residents EP 3
0493PNUK-Lisa Pin-Up-Biggest baddest Mutha Album Sampler
0496BXR-Various-Noise Maker EP 12
0499PNUK-Organ Donors-Wave Guide System
0501FANUK-DJ Nation-X-Rated Sessions
0501FBNUK-DJ Nation-X-Rated Sessions
0501FNUK-DJ Nation-X-Rated Sessions
0502PNUK-4 Rising Stars -Feelin Me
0504PBEAU-F- cubed-Future:Fat:Funk EP2
0505PNUK-Major Bryce-One, One, One
0507PNUK-Various-Hard Beat EP 22
0511PNUK-G-Spott-N-R-G
0513PBEA-Tomahawk-Is Music
0514PNUK-DJ Steve L-All By Myself
0517PNUK-BK-Stay High
0524FNUK-Klub Kollaborations-Klub Kollaborations
0527PNUK-Clive King & Scott Marten-Total Confusion
0529PNUK-DJ Energy-Ayra
0531PNUK-Various-Hardhouse Anthems 4 Sampler EP
0532PNUK-Various-Big Room Tunes Album Sampler
0533PNUK-Pavo & Zany-Here We Go
0535PNUK-Various-Hard Trance EP 4
0536PNUK-BK-Klub Kollaborations EP 2
0542FANUK-DJ Nation-Summer Edition part 2
0542FNUK-DJ Nation-Summer Edition part 1
0544PNUK-BK & Andy Farley-Accelerate
0549PNUK-Vinylgroover & The Red Hed-Keep Punk Rockin'
0550PNUK-DJ Dero-Revolution 07
0551PNUK-Nick Lunn & YOMC -Techno-Punk
0552PNUK-Clive King-Destination
0555PNUK-Tom Neville-Just Fuck
0555PANUK-Tom Neville-Just Fuck Remixes
0557PNUK-Cortina-Music Is Moving / Erection
0558PNUK-Praga Khan-Injected With A Poison
0559PNUK-Various-Through the Night / Eternal '99
0560PNUK-BK-Bad Ass / Don't Give Up
0562PNUK-Various-Ride The Groove / Trippy
0565PNUK-Various-I Need It / tragic
0567PNUK-Various-Return From Flatline / Nitro
0568PNUK-Fergie & BK-House of Pain / Hoovers & Horns
0569PNUK-Champion Burns-Drug Sex Machine
0571PNUK-Clive King-Deal With This
0572FANUK-DJ Nation-Harder Edition
0572FBNUK-DJ Nation-Harder Edition
0573PNUK-Various-Sundissential 3 Album Sampler
0574PNUK-Various-Frantic Residents EP 4
0579PNUK-Electro Headz-No Sleep
0582PNUK-DJ Kim-Time And Space
0584PNUK-Electro Headz-West Coast Rocks
0586PNUK-Champion Burns-Renegade In Me
0589PNUK-Various-Hard Beat EP 23
0604BXR-Joy Kitikonti-Brescia Boogie Vol 1
0606PNUK-BK & Paul Masterson-Mayhem in Miami
0609PNUK-Various-Hard Beat EP 24
0614PNUK-Various-Hard Beat presents The Next Generation
0616NUK-DJ Energy-Serenity
0618PNUK-Alphazone-Revelation
0620PNUK-Todd Tobias-Under One
0621PNUK-Organ Donors-Mental Atmosphere
0622PNUK-Narconoise -Narconoise EP1
0623PNUK-Elemental -Reach Out
065PNUK-Cally & Juice-The White House Project
0627PNUK-Andy Whitby-Andy Whitby EP 1
0628PNUK-Various-Hard Beat EP 25 Pt 1
0628PNUK-Various-Hard Beat EP 25 Pt 2
0629PNUK-Caroline Banx-Caroline Banx EP 1
0630PNUK-Greg Brookman-Free Flow
0631PNUK-Andy Whitby-Andy Whitby EP 2
0635PNUK-Cracked Logic-We Dare The Radio Stations To Playlist Our Record, They Say It's Noisy, We Say They're Lazy
0637PNUK-RFO-Rock Ya Body
0640PNUK-Various-Hard Beat presents The Next Generation EP 3
0641PNUK-Mohito (featuring Howard Jones)-Slip Away
0641FMED-Mohito (featuring Howard Jones)-Slip Away remix
0644PNUK-Various-Hard Dance Anthems Album Sampler
0645PNUK-X Complex-The Walk
0646PNUK-Various-Hard Trance EP 8
0650FNUK-Visa-Fly Away
0651PNUK-Joy Kitikonti-2005 Remixes
0654PNUK-Cracked Logic VS Zed's Dead-Let's Do It
0655PNUK-Gipsy-Gipsy
0656PUMM-Demixer-Raise Your Hands
0659PNUK-Triple M-Sex
0661PNUK-Various-London Underground EP 1
0665PNUK-Various-Hard House Anthems 6 Sampler 1
0667PNUK-Yer Man-Weird Therapy
0679PNUIK-DJ Destiny-What's Up
0672PNUK-Various-Hardcore Nation Album Sampler
0680PNUK-Various-Hardcore EP 3
0687PNUK-Nukleuz Kollective-Higher
0688PNUK-Various-Frantic Residents 5 Sampler
0693FNUK-Stu Allan-A Feeling
0693PNUK-Stu Allan-A Feeling
0694FUMM-Miami Dub Machine-Be Free With Your Love
0696PNUK-Various-Hard Trance EP 9
0699PUMM-Yer Man-Satisfy Me
0707PUMM-Deepgroove-Jus Luv Bass
0708PNUK-Lisa Pin-Up-Lisa Pin-Up EP
0711PNUK-Various-Hardbeat EP 26
0715PNUK-Various-Hardcore Nation 2 Album Sampler EP 2
0719PUMM-Deepestgroove-Fascinated
0731PNUK-Various-Trance Sessions Vol 2 Sampler
0735PUMM-Filthy Rich-It's Like that
0736PNUK-Stu Allan-Far Away
0740PNUK-Lisa Pin-Up-Lisa Pin-Up EP 2
0742PNUK-JoBabe-Follow Me Away
0746PNUK-Ineffect & Gammer-Ineffect & Gammer EP
0747PNUK-Various-Hardbeat EP 27
0753PUMM-Jonathan Ulysses-What You Gonna Do ?
0761PNUK-Various-Trance Sessions Vol 3 Sampler
0794PNUK-Various-Hardcore EP 9
0835PNUK-Various-Hardcore EP 11
0836PSWR-Mauro Picotto-Maybe. Maybe, Not
0840PUMM-Fonzerelli-Spirit
0859PSWR-Mauro Picotto-Evribadi
0873PNUK-Various-Trance Sessions Solstice Album Sampler
0898PNUK-Various-Hardcore Adrenaline 2 Album Sampler
BXR1215-Mauro Picotto-Pulsar – 2K5
FRNP0002-Ed Real vs The Shrink-Wake up Call!
FRNP0003-Paul Clarke & M. Ramone-Get-In-Funky
FRNP0005-Andy Farley-Hyperventilate
Related Posts