The Heart Attack Grill : Over 25 stone? Eat free!
A restaurant in Arizona has caught media attention with its extravegant menu, including 'The Quadruple Bypass Burger' and 'Flatline Fries'.
The fast food restaurant, named 'The Heart Attack Grill' offers unlimited free burgers to those over 25 stone. Rising to the irony, the 'heart-attack' calorie laden burgers are served by waitresses in nurses outfits.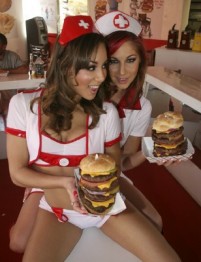 A YouTube advert for the restaurant has been released, the face of the campaign is a 46 stone man, Blair Rivers.
In the Video, Jon Basso, the entrepreneur behind the business, is dressed in a lab coat and refers to himself as 'Dr Jon, Founder of the Heart Attack Grill Diet.'
Blair Rivers then goes on to say how 'Other Diets Don't Deliver results' and how 'Other Diets don't cut it, Along with a cold beer and cigarette, it's a diet you can stick to for life.'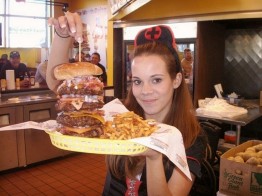 The video also comes with a warning stating that 'side effects may include sudden weight gain, repeated increase of wardrobe size, back pain, male breast growth, loss of sexual partners, lung cancer, tooth decay and liver sclerosis stroke. In some cases mild death may occur.'
Although this restaurant may mock the obese, the sign at the door does read 'Go away. If you come in this place, it's going to kill you.'
Other percs such as yearly memberships are available, where unlimited food is offered and one on one life coaching is available with a nurse.
I think you will agree this is not for the faint hearted….