Nukleuz Hardcore Podcast EP.006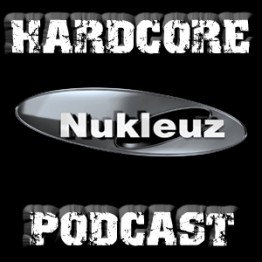 The Nukleuz Hardcore podcast is back with a bang, thump and crash all at break neck speed!

That can only mean one thing JAKAZiD is back in the house and providing hardcore fans with another dose of outrageous hardcore tracks and upfront exclusives that are only in the hands of a select few.

JAKAZiD took a back seat in episode 005, so that Nukleuz could provide a show from the very talented
Al Twisted

After the soul searching, dark sinister beats of the previous show, we return to the high energy and damn outright lunatic frenzy that only JAKAZiD can conjure up or even dare to play back to back.



CLICK HERE FOR THE NUKLEUZ HARDCORE PODCAST EPISODE 006


Nukleuz Hardcore Podcast Episode 006 Tracklisting:

1. M-Project – Party Lover (Kanji Kinetic Remix) [Terraform Music/Guhroovy]
M-Project on MySpace

2. Supernova – Cheesy DJs (Cube::Hard Remix) [ReBuild Music]
Download Track Here

3. Hoodzie – Be Quiet [Tryed & Tested]
Download Track Here

4. Darren Hotchkiss & Mark MacLauchlan – Nobody [TBC]
Darren Hotchkiss on MySpace

5. HNK – U Sure Do (JAKAZiD Remix) [Nukleuz]
Download Track Here

6. Cube::Hard – Smoke Signals [Electronica Exposed]
Download Track Here

7. Nu Foundation – What Did You Say [TBC]
Nu Foundation on MySpace

8. kors k feat. Lia – Horizon [Konami]
Purchase from here

9. Deeper Territory – The Answer [Hardcore Underground]
Download Track Here

10. Rhythmics – Far Away [Betamuse]
For more info check out Betamuse

11. DJ Shimamura – Theme Of Happiness (kors k Remix) [Shot Music]
Visit DJ Shimamura on Shot Music

12. DJ Fear – First Serve [Essential Platinum]
Download Track Here

13. Darwin – Fragile Visions [Hardcore Underground]
Download Track Here

14. Ibiza Knights – Feels So Good To Be Alive (Jamie Ritmen Remix) [Nukleuz]
Download Track Here

15. kors k as Teranoid – Bad Maniacs [Konami]
Purchase from here

CLICK HERE FOR THE NUKLEUZ HARDCORE PODCAST EPISODE 006
Related Posts