Nukleuz Hardcore Podcast EP.008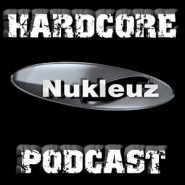 It is that time again and that can only mean one thing.
Hardcore Resident JAKAZiD is here to spoil all you hardcore fans with the latest hardcore podcast from Nukleuz Records.
This of course is episode 008 of the hardcore podcast series.
JAKAZiD has gone for a more uplifting and bouncy approach to the show this time round. We hope you enjoy and please feel free to comment.
Also JAKAZiD is always looking for guest mixes to add a different dimension to his shows and the podcast series. So feel free to get in touch.
But for now, lets get stuck into the latest episode. Just click the link below. Tracklisting as always is also below.
CLICK HERE FOR THE NUKLEUZ HARDCORE PODCAST EPISODE 008
Nukleuz Hardcore Podcast Episode 008 Tracklisting:



01. Underworld & High Contrast – Scribble (Radio Edit) [Underworldlive.com]
02. Dee! feat. Gumi – Tsuku-Yume (M-Project Mix) [AVSS]
03. Gammer – 34m [ReBuild Music]
04. P*Light – Attack To My Dream [Pichnopop/Sketch Up!]
05. Entity – Higher Functions [ReBuild Music]
06. Nu Foundation – Drifting Away [TBC]
07. Rhythmics – Funky Beat [Betamuse]
08. Little Fella – Start The Party [ReBuild Music]
09. Fracus and Darwin – Realms & Rough Cuts [Hardcore Underground]
10. Nu Foundation – In Your Head (Ultravibes Remix) [Hardcore Underground]
11. Alek Sz‡hala – Astraia [ReBuild Music]
12. Minamotoya feat. MC Azsa -Andoroid Conflict [Hardcore Tano*C]
13. Noizenecio – Regenerate Sky [Hardcore Tano*C]
14. Gammer – Ambient Angels [Strictly For The Purist]
CLICK HERE FOR THE NUKLEUZ HARDCORE PODCAST EPISODE 008
Related Posts