Nukleuz Hardcore Podcast EP.009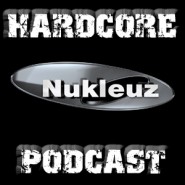 Our hardcore podcast is back in town again for the 9th episode, brought to you as usual from our resident hardcore man JAKAZiD. This is a round-up of his current and forthcoming hardcore favourites in the UK and J-core scene, with a couple of gems from the Nukleuz back catalogue thrown in for good measure.
Don't forget to subscribe to the podcast if you haven't done already, as coming up in the next few weeks will be a guest showcase mix from Hardcore Underground's incredibly talented core artist Darwin, as well as a showcase of tracks from DJ Shimamura's forthcoming album "TRAX".
CLICK HERE FOR THE NUKLEUZ HARDCORE PODCAST EPISODE 009
Nukleuz Hardcore Podcast Episode 008 Tracklisting:

01. Ponder – Shutdown [Elation Digital]
02. Wizbit & Ponder – New Zealand Story (CLSM Remix) [Lucky Breaks]
03. Nu Foundation – In Your Head (Rave Mix) [Hardcore Underground]
04. Orbit1 – Jitter 0.5 [Australia With Force]
05. Cat-Like-Thief – New Heights (Nu Foundation Remix)
06. Cy-Rim Project – Angel Ring ~Tsunageyou Yo Koi no Rinku~ (M-Project Power Inst Remix) [Shot Music]
07. Lumin8 – Rivers Flow In You (Darwin's HU Remix) [Australia With Force]
08. TANUKI – Starry Sky [Mob Squad Tokyo]
09. Gammer & MC Whizzkid – We Are The Vampires [Muffin Music]
10. Riddy & Tiddy – Aquarius
11. DJ Solution – Elements (Arkitech Remix) [Nu Energy]
12. Darwin – I Found You (Nu Foundation Remix) [Hardcore Underground]
13. Watergate – Heart of Asia (Orbit1 Remix) [Virgin EMI]
14. BK – Revolution (JAKAZiD Remix) [Nukleuz]
CLICK HERE FOR THE NUKLEUZ HARDCORE PODCAST EPISODE 009
Related Posts