Bounce Adrenaline: Album Sampler Out Now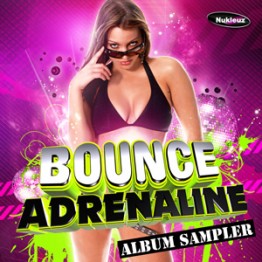 Following on from the successful Hardcore Adrenaline and Trance Adrenaline album series Sound Selektaz have teamed up with Nukleuz Records to unleash the debut Bounce Adrenaline album! As one of the hottest acts on the "Clubland" circuit, Sound Selektaz aka Alex Ridge & Mark Coupe have had major success since forming in 2005. They have becoming known worldwide for remixing many of the top chart artists such as Dizzee Rascal, Sash!, DJ Sammy, September, Example, SL2, Kid Kudi & many more even remixing Basshunter's 5 week UK #1 "Now Your'e Gone" and Dizzee Rascal's UK #1 "Dirtee Disco" which features on the brand new Dance Nation 2010 album.
Buy Online now from:
Trackitdown
iTunes
Audiojelly
Juno Download
DJ Download
Masterbeat
Amazon
Napster
Sound Selektaz perform each week across the whole of the UK & Europe at clubs such as Wigan Pier, Bounce Heaven, Bananas (Magaluf) & Ibiza bringing their own brand of Bounce, NRG and Eurobeat to thousands of clubbers each week. Bounce Adrenaline was created to showcase the biggest records from this exciting, youthful and widespread scene from some of the biggest producers and DJs on the circuit including numerous exclusive tracks and remixes.
This album sampler offers a taster of what is on offer on the full album of 30 tracks across 2 DJ mixes and featuring the likes of Al Storm, Essex Boys, Ones & 2, Bass Slammers (Ministry Of Sound tours), Scott Brown, Total Control, The Naughty Boyz, Digital Gravity, Love Assassins, Axel Gear, and some exclusive mixes of Visa, Cortina, CRW, Mario Piu and of course tracks from Sound Selektaz and their Cue N Play label.
Check out these 3 hot new exclusive remixes alongside the classic Clothes Off (Bass Slammers Remix) and be sure to come along to one of the launch parties at Wigan Pier, Klubbed Out and more TBC.
TRACKLIST:
1. Love Assassins – Aint No Love (Ain't No Use) (One & 2 Remix)
2. King Ace – Better Off Alone (Digital Gravity Remix)
3. Visa – Fly Away (Axel Gear Remix)
4. Chocolate Party – We Don't Have To Take Our Clothes Off (Bass Slammers Remix)
Pre-Order the album now from:
iTunes
Trackitdown
Related Posts