Aaron Olson – Empathy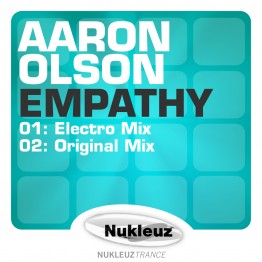 Aaron Olson drops his debut track on Nukleuz, "Empathy" with a bang and it is a tech-trance monster contrasting hi-octane dark basslines with uplifting pianos and synths sure to rock trance and hard dance floors alike! On the flip Aaron unleashes his Electro Mix sound which has been forged through his love of Electro/House whilst still retaining some of the tech-trance vibes and attitude that have won him so many supporters! Aaron's Electro Mix of Sander Kleinberg's "This Is Our Night" saw him receive a huge radio response and even support by Sander himself!
Sander Kleinenberg: "…heard a clip of this on a radio station, I freaked out…LOVE IT!"
Starting out in the 1998 DJ circuit, Aaron Olson always had a knack for destroying dance floors. With humble beginnings playing trance and techno, Aaron quickly moved on to tech-trance after the big Nukleuz bump in 99. Aaron spent most of the next few years jetting around Canada playing clubs and raves alike before concentrating on production.
Aaron's first full production, "The Subversion EP" was quickly snapped up by BK's label manager Scott Attrill for Riot! Recordings before signing his next EP, "Equilibrium" to Traffic Recordings wher it has already picked up support from the likes of Scot Project, Luca Antolini, Kutski, Scott Attrill, Anne Savage, BK, Lisa Lashes, Alex Kidd, Organ Donors, K-90 & more! It's was even hailed by Beatport.com as "…one of the best packages of mixes ever to grace Traffic Records…"
Track Listing:
1) Electro Mix
2) Original Mix
Nick Sentience: "Good Work…Good tunage!"
Fabio Stein: "That's more like it, definitely supporting this!"
Rodi Style: "Loving the Aaron Olson material, definitely a soon to be major player in our scene and I've been supporting his tracks in my radio show and sets for some time now!"
Scott Attrill: "Aaron Olson is one to watch, tracks such as 'Equilibrium' set him apart from others, if this continues, 2011 will be a year where he could really make his mark."
LINKS:
www.aaronolson.net
www.facebook.com/djaaronolson
www.soundcloud.com/aaron_olson
www.youtube.ca/djaaronolson
Download from:
iTunes
Beatport
Related Posts