Audioscape ft Annikka – All My Lovin'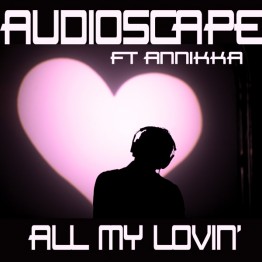 For their forthcoming 'Trance Form' album, Audioscape present two upfront Dance anthems and with mixes from Attention Seekerz and JAKAZiD the package is a pretty good one!
'All My Lovin' is the first single taken from Audioscape's much anticipated 'Trance Form' album. It's a big Trance banger with Audioscape written all over it. The remixes for this one come from another of Nukleuz's main producers, JAKAZiD, taking Audioscape back to their Hardcore routes, and Attention Seekerz who house the whole thing right up.
'I Don't Want To Lose You' is the second single and with it's huge build, old skool Trance vibes and absolutely divine vocals (once again courtesy of Annikka), this is set to be another big hitter for Trance DJs & Fans the world over.
Track Listing:
1) All My Lovin' (Original Mix)
2) All My Lovin' (Attention Seekers Remix)
3) All My Lovin' (JAKAZiD Remix)
4) All My Lovin' (Instrumental Dub)

Download from iTunes
Download from Beatport
Download from Trackitdown
Download from Juno
Nukleuz favourites Audioscape first burst onto the scene in 2006 with their debut single, Walk Away, which went on to become M8 magazines single of the month and feature on the biggest compilations, including No.1 selling Clubland X-Treme – Hardcore 2. Since then, Audioscape have kept the hits coming, with tracks covering the spectrum from Hardcore to Trance and gone on to remix for the likes of Darude, with their huge song, 'Sandstorm'. Audioscape have even seen their single, 'Who's Sorry', become a top selling ringtone featuring none other than the legendary don't hassle the hoff, David Hasslehoff!
Having originally been signed up to fellow Hardcore legends, Sy & Unknown's Quosh label, Audioscape were quickly picked up by Nukleuz and the two have continuously kept a strong relationship, with Nukleuz releasing most of Audioscape's major tracks. From 2007 though, Audioscape began to highlight the versatility of their productions by making the transition from UK Hardcore to Trance with 'One Heart & One Mind' Ft Kelly C. Merely weeks later follow up single 'No More Rain' tore up dance floors across Clubland, with both tracks also receiving solid airplay on BBC Radio 1 and Kiss.
2008 is shaping up to be a massive year for Audioscape whose tracks have already been receiving airplay by Dave Pearce on his weekly Radio 1 Dance Anthems show. 2008 also sees Audioscape release their debut album, 'Trance Form', on Nukleuz in October – featuring all the old Audioscape friends including the Organ Donors, Kelly C and Rachel Loy.
Related Posts