Dirkie Coetzee – Dreaming Of Ibiza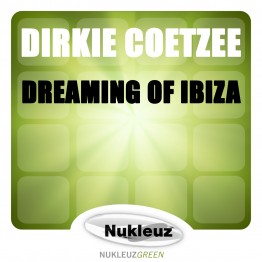 New to Nukleuz – Dirkie Coetzee is an upcoming trance DJ / Producer from South Africa. With a personal recommendation from the mighty Pierre Pienaar himself, a string of releases on Bonzai Progressive / Subtraxx and productions that feature renowned trance vocalists Emma Lock and Marcia Juell, Dirkie is beginning to make a name for himself across the trance scenes of Europe and Southern Africa. When we approached Dirkie, he was over the moon as little did we know he is a BIG Nukleuz fan and in his own words "probably my favourite label". Within a matter of days he had played us his latest production "Dreaming Of Ibiza" and the beautiful soft piano melodies coupled with the euphoria and Ibiza sunset vibes instantly reminded us of Pierre's works with a new unique approach and we had to have it! For those of you who miss the Ibiza sands this trancer will bring back memories, passion and emotion.
Watch out for our Nukleuz In South Africa albums coming in the following months, Part 1 mixed by Pierre Pienaar and Part 2 will be mixed by Dirkie Coetzee!
TRACKLIST:
1) DIRKIE COETZEE – DREAMING OF IBIZA (ORIGINAL MIX)
Dirkie Coetzee – Dreaming Of Ibiza by Nukleuz Records
Download from:
iTunes
Beatport
Juno Download
Biography:
Dirkie Coetzee started his career in the EDM scene as a bedroom DJ way back at the tender age of 16. After spending numerous years perfecting his mixing skills he quickly started to feature in night clubs, events and radio stations around Southern Africa. It was in this time that Dirkie started to gain interest in the art of music production. "I used to be a DJ, but thanks to the wonderful world of music production I can now create the music I want to play." Without any formal training in music theory, rhythms, chord progressions, sound synthesis or music production in general, Dirkie set out to learn this fine art by scouring any available articles and tutorials available on the internet. With many years of trial and error Dirkie slowly refined his skills as a music producer to create the sounds you hear in his music today. "It's hard to stay motivated when you feel like you are not achieving anything with your music, but passion for music always dies a slow death and quitting is never an option for me." It's this passion for music and trance music production in particular that has helped Dirkie to get his music signed to some of the best labels in the business. 2011 is the year Dirkie Coetzee focused all his energy and time on producing Vocal Trance. His debut Vocal Trance production "Never Looking Back" with world renowned singer and songwriter Emma Lock has given Dirkie a solid platform to showcase his ability to craft this powerful genre of music. American artist Marcia Juell is another one of the world's leading Trance Vocalists that has worked on collaborations with the rapidly rising producer from South Africa.
Related Posts