DJ da Dominator – Lost In Thought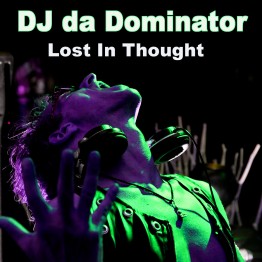 Dutch DJ/producer "DJ da Dominator" Marcel Tullenaar smashes out his follow-up release on Nukleuz, building on the take-off success of his debut release "Hidden Feelings". Having built a formidable reputation as one of Holland's leading resident DJs for Dominatrix, Toxic and Boudoir Bizarre, known for his roof-raising bootleg remixes, Marcel's audience demanded he try his hand at production. A trio of debut releases, "Hidden Feelings", "Lost In Thought" & "Let Yourself Go" have been snapped up under the Nukleuz family – euphoric, pumping trance with smooth uplifting melodies and driving percussive big beat drums define his unique production style.
"Lost In Thought" is Marcel's biggest production to date! All-be-it two releases into his career. Epitomizing the euphoria of Holland's biggest trance events, the power and passion of this release and the double time percussion creates a unique and unmissable blend of energy and talent. The accompanying Big In Ibiza remix takes the melody and piano chords of the original mix and forms a building electro-house drop around an already perfected record.
*Artwork copyright of 'Perrimage.com'
TRACKLIST
1) ORIGINAL MIX
2) BIG IN IBIZA MIX
Download from:
iTunes
Beatport
Juno Download
DJ da Dominator – Lost In Thought by Nukleuz Records
Biography:
In 1999, Marcel Tullenaar aka DJ da Dominator started to mix at underground parties and raves in the Netherlands. Till 2005 he played "UK NRG Trance", UK Hardhouse and HardDance and became DJ da Dominator because of his new found position as Resident Party "Dominatrix" in the Netherlands, and changed his style into Tribal Tech, Tech Trance, Uplifting Trance and Hard Trance. 

He soon became the Netherlands' number one Fetish & Erotic Dance Scene DJ in Europe.
His performances are not regular, they are full with fire, passion, energy and his mix skills and tricks are outstanding. Jumping on speakers while mixing, or jumping in the crowd to get involved. DJ da Dominator currently holds residencies at the 3 leading concepts in Europe's fetish dance scene: party "Dominatrix", party "Toxic" and party "Boudoir Bizarre". DJ da Dominator's production career is only just begining…
www.DJdaDominator.nl
https://www.facebook.com/pages/DJ-da-Dominator/54986342939
http://dj-da-dominator.hyves.nl/
http://partyflock.nl/artist/26539
Related Posts