Frantic Residents NuBreed: Album Sampler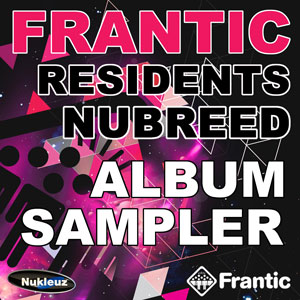 Download from:
Trackitdown
Beatport
iTunes
Juno
Frantic and Nukleuz have always prided themselves on not only working with some of the hottest hard dance acts in the world but also of discovering, nurturing and launching the careers of some of the most inspiring new talents in the scene.
This series of Frantic Residents NuBreed albums aims to showcase the incredible crowd pleasing skills of Frantic's current crop of resident DJs. They are rocking dance floors every week with their own blend of tracks and unique mixing styles.
This album sampler will offer you a taste of what is to come with tracks from 2 of the DJs who make up this exciting series: Future Resonance and Kevsey D of Stereodays Recordings.
FUTURE RESONANCE – New Zealand's Best Hard Dance DJ at the 2010 Nite:Life Awards & Best Live Act at the 2009 Nite:Life Awards. After numerous New Zealand nationwide tours and an Australian tour celebrating his departure for the UK, Future Resonance has already played at the biggest events across Australasia (Slinky, Gatecrasher, Godskitchen, Frantic, Vicious Events, Chemistry, Fevah & his own brand Stereodays) and alongside some of the world's biggest DJ's. In the last 3 years spent in NZ FR has become one of Auckland's most booked DJ, as well as holding a weekly radio show on UPFM 3 years running.
Tracklisting:
1) Future Resonance – First Instance
2) Future Resonance & Kevsey D – The Saint
Related Posts