Hard Beat EP 30 – Out now on all Stores!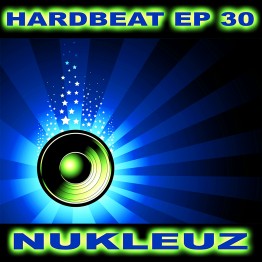 Nukleuz's legendary flag ship hard dance EP series hits it's 30th installment after 13 years of championing the world's biggest and best hard dance talent. EP 1 released in 1997 became a beacon for the production skills of Saccoman, Ricky Effe and the now world renowned Mauro Picotto. Over the series the Hard Dance EP series introduced ravers to the likes of Eternal Rhythm, Beat Busters, R.A.F., Cappella, Gigi D'Agostino, The 49ers, IQ, Cortina, Nick Sentience, Champion Burns, Ali Wilson, Jon Rundell, Rowland & Wright, Vinylgroover & the Red Hed, and Joy Kitikonti.
Download now from:
iTunes
Beatport
Trackitdown
Audiojelly
DJ Tunes
Juno Download
Masterbeat
Amazon
More recently scene leaders such as Andy Whitby, Defective Audio, Dark By Design and Matt Lee have become a part of one of these influential EP offerings. Very early on however, the Hard Beat series came to be dominated by the immeasurable talent of BK who featured on an impressive 18 of the previous 29 releases as well as mixing Hard Beat: The Album.
The series also spawned a Next Generation series aimed at showcasing the immense natural talent coming through the scene including Greg Brookman, Caroline Banx, Masmada, Phil York, Dark By Design and R.F.O. (R.I.P. mate – The Nukleuz Family)
Building on this history of both championing classic anthems at their birth and building the skills of emerging talents, Hard Beat EP 30 unveils 3 unique takes on some of Nukleuz's biggest club smashes remixed by rising stars In2ition and Sundissential's new head honcho Dark 13. We love them and we're sure you will to.
Keep on raving!
Hard Beat EP 30 – Track Listing:
1) BK – Revolution (In2ition Remix)
2) Cortina – Higher (Dark13 Remix)
3) Vinylgroover & The Red Hed – Move Your Body (Dark13 Remix)
Related Posts