Hardcore Adrenaline 2011: Mixed by Endemic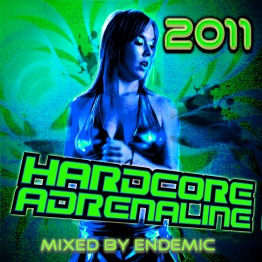 Hardcore Adrenaline 2011 takes this mantra further and has initially signed up 3 of the scene's strongest and most under appreciated talents, A.B., Douglas and Endemic. Endemic follows up the high standard set by A.B with a devastating showcase of talent featuring exclusive remixes of classics like King Ace 'Dark Side Of The Moon' and Organ Donors "99.9", upfront club tracks and some of the biggest anthems rocking his sets.
Download from:
iTunes
Trackitdown
Hardbeats Download
The chart topping Hardcore Adrenaline album series returns for 2011 having initially arrived to critical acclaim and hitting #2 in the Official UK Compilation Chart in 2007 before spawning 2 more similarly successful albums. Mixed by Stu Allan and DJ Seduction the project aimed to showcase the biggest hardcore anthems and club tracks from the biggest artists as well as shining a light on the huge amount of incredibly talented producers and DJs in the scene who rarely got noticed by other albums.
1. Lost Soul – Garden Of Eden (Original Mix)
2. Sharkey – LoTek (Oli G Remix)
3. Endemic – Hurricane (Douglas Remix)
4. Eryk – Orpheus PVC (Lost Soul Remix)
5. Lost Soul – Dark Side Of The Moon (K Complex & Mark Ashley Remix)
6. Endemic & Douglas – Keninja (Original Mix)
7. Endemic – Whispers (Original Mix)
8. King Ace – Dark Side Of The Moon (Endemic Remix)*
9. Lost Soul – Deep Space (Original Mix)
10. Endemic – Hometown 2011 (Original Mix)
11. Kevin Energy – Take Me Up (Arkitech Remix)
12. Douglas Feat. Rhona – FM220 (Endemic Remix)
13. Transcend – Darklight (Original Mix)
14. Lost Soul – Mysterious Stranger (Original Mix)
15. Organ Donors – 99.9 (Endemic Remix)*
16. Hardcore Adrenaline 2011: Mixed by Endemic (DJ Mix)
* denotes album exclusive tracks
Related Posts