Hardcore EP 21 – Out Now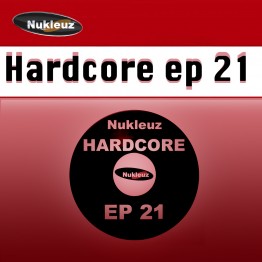 Trackitdown.net: "Featured Track: LET'S FLY AWAY REMIXED! One of the most exciting new talents EUFEION gets his hands on the one and only VISA anthem FLY AWAY. Supported by everyone in the scene since it's original release in the late 1990's this is a vocal hardcore anthem that's pure gold. YOU NEED THIS REMIX!"
Download from:
Trackitdown
Beatport
Juno Download
Amazon
iTunes
DJ Download
Launched in 2004 Nukleuz's Hardcore EP series has sought to champion the world's brightest and best talent alongside some of the biggest ever classics from scene leaders such as Styles & Breeze, Hixxy, Robbie Long & Stormtrooper, Stu Allan, Gammer, Sy & Unknown and Visa to those extremely talented yet under appreciated producers such as Impact & Resist, Weaver, Al Storm, Sparky, Al Twisted & Rob Da Rhythm, Audioscape, Jamie Ritman, Barley, JAKAZiD, Joey Riot, DJ Kurt, Darwin, Fracus and many more.
Hardcore EP 21 unveils 2 unique Twists on a couple of Nukleuz's biggest club smashes – Visa – Fly Away and Visa – Rock Your Body – remixed by rising star Eufeion. Originally going under Leigh Outrage, Eufeion ventured in to the studio with Digital Beatz producer "Tazz" in 2001 and began writing freeform.
Eupheion also worked with Impact of Infexious Audio and picked up releases on Relentless Vinyl. In 2005-2007 Leigh co-ran the labels Addictive Vinyl and Ravin Phantasy which lead to him starting his own studio and making his own solo productions on his new solo label "Hardcore Re Addicted".
More recently Eufeion has produced and remixed for: Visa, Slipmatt, CLSM, Nu Energy, S3RL, Scott Brown and more with releases on Evolution Records, Liquid Hardcore, Can You Feel It Media, Electrik Euphoria, Electronic, Executive Digital, Nu Energy Digital, FBI Recordings, Electronic Phusion, Audio Reanimation, Ravin' Phantasy, Hardcore Coalition, Hardcore Re-Addicted, NSR Records & more.
Keep on raving!
Track Listing:
1) Visa – Fly Away (Eufeion Remix)
2) Visa – Rock Your Body (Eufeion Remix)
http://www.hcrerecordings.co.uk/e/index.html
Related Posts