Hemstock & Ric Scott – Revolution – Out Now!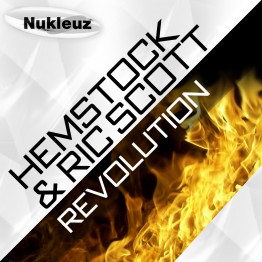 Ric Scott & Les Hemstock have worked together for years to produce and remix big tunes. After working on solo projects for years, the two have finally rejoined forces once again for 2010 and more. The sound is fresh and the ideas are varied to say the least combining UK dance styles with the freshest US styles and sounds. The duo recently remixed for Paul Hardcastle's latest release of '19', Lady Gaga – 'Telephone' and Lionel Richie – 'Ball & Chain'.
Buy Online now from:
Trackitdown
Beatport
iTunes
Amazon
Masterbeat
Juno
DJ Download
Dance Music Hub
DJ Tunes
Audiojelly
Ric Scott's classical influence on the track adds orchestral sections that build subtly and gently before unleashing its full feel good classic trance vibes with energy and passion. The power of the classical world is unleashed into the electronic scene and shows us what it can offer to a track. Choirs, eerie chord progressions, strings and timpani give a techie-classical Hans Zimmer-esque composition that gradually brings us into the trancey electronic side which works fantastically to give an innovative and classy trance anthem.
The first remix, courtesy of Masonix, takes a step closer to the trance roots and ups the pace and toughens up the groove but maintains the classical inspiration that makes the original mix. Just as innovative but for very different reasons. The second remix is by HarryHard – it's in the name. A hard, thumping bounce takes over the track whilst the classical section is sped up and blended perfectly with HarryHard's unique style. Filled with tempo changes and head banging bass, this remix completes a varied, innovative and polished package.
Track Listing:
1) Revolution (Original Mix)
2) Revolution (Masonix Mix)
3) Revolution (HarryHard Mix)
Les Hemstock is one of the UK's leading producers and live performance DJs with hit records under 'Jive Bunny and The Mastermixers' and 'Hemstock & Jennings'. He has toured the world, featured on hundreds of radio stations, TV shows and magazine features, awarding him Best DJ and Best producer, as well as the highly prestigious triple platinum album award from the BPI.
Ric Scott began his involvement in music through the classical scene at a young age and was quickly able to convert his classical skills into the studio. DJing and forming the hugely successful rock and blues bands 'Rhythm Kings' and 'Wanted', he began collabourations with Les Hemstock going on to remix tracks for Ian Van Dahl and producing a track which was sampled by Paul Van Dyk, Nothing But You.
http://www.leshemstock.com/
http://www.ricscottmusic.com/ricscott.php
Related Posts