Jay Saunders ft Chilii – Reason For Being – Out Now!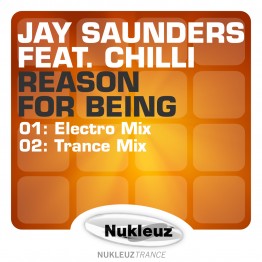 London based production talent Jay Saunders unleashes his 2nd single "Reason For Being", collaborating with the hugely respected vocalist Chilii, building on remixes for Coco Star (Fragma – Toca's Miracle), work with Marie Louise, Rachel McFarlane, Shirin Singer and Betsie Larkin as well as support from the likes of Judge Jules. Already Jay aka Jamie Sewell is building a strong reputation with plans to work on singles with Shirin Singer, Betsie Larkin, Tiff Lacey, Jan Johnston and Marcie Swatrz.
Following up his debut trance single earlier this year on Nukleuz – "Summer Breeze" which featured the amazing vocals of Internationally Renowned Singer/Songwriter Marcie, "Reason For Being" perfectly showcases the talents Chilii, with its beautiful floating trance vibes with progressive touches and classic Balearic grooves. All underpinned by a gorgeous and passionate vocal performance.
Buy Online now from:
iTunes
DJ Tunes
Beatport
Trackitdown
Juno Download
Discogs
DJ Download
Audiojelly

Check out Jay Saunders ft Marcie – Summer Breeze – Click here
After signing hot new house and trance producer Jay Saunders, Big In Ibiza's own inhouse production team lead by Josh McInnes aka Cut & Splice immediately jumped at the chance to remix these fantastic vocals in his own style and take the record in a new direction. Check out the Big In Ibiza remixes of both "Summer Breeze" and "Reason For Being" – out now on our sister label.
http://biginibiza.com/releases/big-in-ibiza-ep2-out-now/
Related Posts