Johan Ekman – It Remains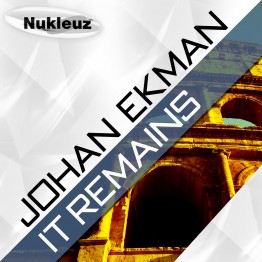 Championed on Ibiza Trance Sessions 2010, 'It Remains' is the follow up to 'Never Ending' and is Johan Ekman's 2nd outing on Nukleuz Records having been spotted by Pierre Pienaar, head of Nukluez Green.
Track Listings:
1) It Remains (Original Mix)
This year Johan is not only producing he is also back on the scene with fresh new songs and energy. Launching his radioshow "Decibel" (1st Monday each month 22-24 CET/GMT+1 on www.totaalfm.com) has made people open up their eyes for this talented up & coming Dj and producer.
Johan Ekman releases on Nukleuz:
Johan Ekman – It Remains – 28/06/2010
Johan Ekman – Never Ending – 14/06/2010
For more information on Johan Ekman visit:
http://www.johanekman.com
http://www.myspace.com/johanekman
http://www.twitter.com/JohanEkmanMusic
http://www.facebook.com/group.php?gid=44408884847
DOWNLOAD FROM:
iTunes
Beatport
DJ Download
Amazon
Johan Ekman was born 13th January 1987 in a town called Örebro, Sweden. Since he was a child he has felt that music is his one true passion, and at the age of 12 he decided to start produce music by himself.
Ekman did some DJ gigs in his hometown, some school discos and private parties, but after a while he felt that he should focus only at producing and build up his name as producer. The hard work paid off, and today Johan has released on some of the biggest labels including Recover, Discover, Future Sound Of Egypt, Omerta, Resonate and now the mighty Nukleuz Records.
In 2008 Johan Ekman released "Timeless" on Discover charted for 2 weeks in top 10 before hit the number 1 spot for a week, it is said that it was one of the biggest tunes of the year. Ekman's dirty, driving and yet euphoric and uplifting trance sound has seen him gain huge support from leading DJs including Aly & Fila, John Askew, Eddie Halliwell, W & W and Daniel Kandi.
Related Posts