Melodia – Is It Friday Yet?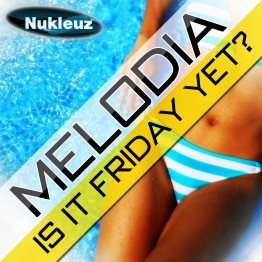 Pierre Pienaar returns with a long awaited release under the pseudonym Melodia. 'Is It Friday Yet?' is the follow up to 'The Way', a track featured on Ministry of Sound's recent 'Trance Nation' release, mixed by Andy Moor. The single serves up another classic Pierre trance record in the form of an original and an alternative mix with the Big In Ibiza house mix completing the package.
Is It Friday Yet? Perhaps not. Does it feel like Friday? Yes, it does. This track is a laid-back prog house / trance piece which features the prominent driving synth and beat Melodia fans will have come accustomed to, blended beautifully into the lustrous piano arpeggios and chilled uplifting melodies that subtly and effortlessly drop into the raise-the-roof vibe that Pierre offers in all of his productions.
Track Listing:
1) Is It Friday Yet (Original Mix)
2) Is It Friday Yet (Big In Ibiza Mix)
Download now:
DJ Download
Trackitdown
Beatport
iTunes
Juno Download
DJ Tunes
Masterbeat
Amazon
Audiojelly
Napster
Pierre's productions have seen the support of the world's best DJs and most recently Markus Schulz's huge support for P.H.A.T.T. – Not Today saw Pierre's track become a key feature of his Global DJ Broadcast 'Ibiza Summer Sessions'.
At the age of only 25 he has racked up over 40 single releases and over 40 remixes and has been commissioned to remix tracks for the likes of Lost Witness, BK, Ratty, CRW, Mario Piu, Ralph Novell, Mauro Picotto and even Bob Marley among others. As the Head of Nukleuz's Green label, with some of the biggest trance artists including Mauro Picotto, Mario Piu, CRW and Joy Kitikonti, Pierre has signed and created some of the biggest and best killer floor rocking tunes.
Related Posts