Nianaro – Life Is Short (Ronny K Emotion Remix)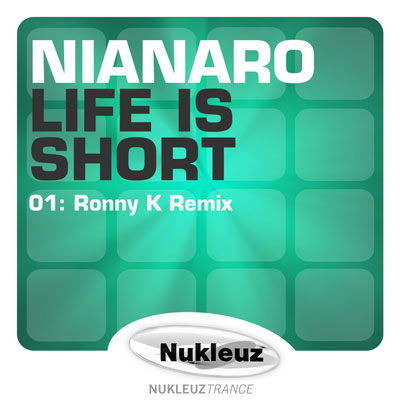 Following it's original release "Life Is Short" generated a huge response from DJs and producers who loved the energy and passion in the record. One of those, Ronny K even insisted on remixing it and has delivered a high octane trance mix perfect for big rooms at peak time and certain to draw the attention of the biggest DJs in the world with his recent productions gaining support from the likes of Meno De Jong, Sean Tyas, Manuel Le Saux, Roger Shah, Pedro Del Mar, Woody Van Eyden, Alex Morph, Jorn Van Deynhoven, also No.1 world DJ Armin Van Buuren and more!
As the title suggests – Life Is Short – and Nianaro (aka Destroller) doesn't intend to waste a minute of it! On his first outing on Nukleuz, Nianaro unveils a heartfelt and moving trance record that uplifts and excites dancefloors with it's life affirming vibes and floor rocking energy. Make the most of life and dance till you can't stand!
Ronny K. was born in Czech Republic and now lives in London where he produces, DJs and creates his monthly Trance Insurgence radio show broadcast on FM stations like radio GO DJ on Slovakia and his brand new show called TRANCE4NATIONS on famous trance radio station Afterhours.FM. In 2009 Afterhours.FM listeners voted Ronny K the No. 1 DJ alongside Aly and Fila, Sean Tyas, Manuel LeSaux and Daniel Kandi!
Download from:
Beatport
Trackitdown
Juno Download
Track Listing:
1. Life Is Short (Ronny K Emotion Remix)
For more from Ronny K visit:
www.myspace.com/moeronnyk
Related Posts