Organ Donors – 4 Tribes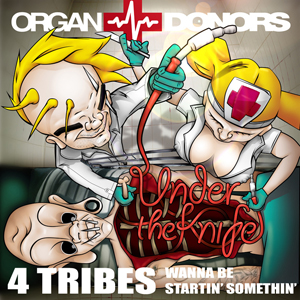 Originally released as part of Nukleuz' DJ Nation series, Organ Donors "4 Tribes (Wanna Be Startin Somethin)" and the 12" vinyl only release subsequently shot straight into the UK top 40. Although by todays standards any vinyl only release reaching the top 40 would be all but a godsend this releases magic has remained!
In preparation for the forthcoming album, Under The Knife, Organ Donors (made up of brothers in mischief, Matt & Scott Harris) kick started the buzz with three remixes of this classic from some other dance legends and stars in BK, Will Atkinson and Joey V.
Track Listing:
1) 4 Tribes: Wanna Be Startin Somethin' (BK's Under The Knife Remix)
2) 4 Tribes: Wanna Be Startin Somethin' (Will Atkinson's Under The Knife Remix)
3) 4 Tribes: Wanna Be Startin Somethin' (Joey vs Under The Knife Remix)
Download from iTunes
Download from Beatport
Download from Trackitdown
Download from Juno
Download from DJ Download
Related Posts