Organ Donors – 99.9 (2012 Hard Edge Remix)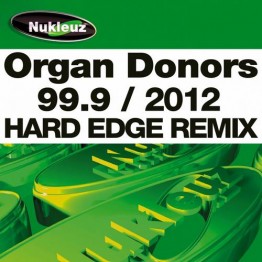 KUTSKI APPROVED! Organ Donors update their own mental anthem 99.9. A monster that you will be hearing all year long without doubt.
Download here:
iTunes
Beatport
Juno Download
Hard Beats Download
Trackitdown
Track Information:
In 2012 the Organ Donors are truly re established as the leading producers in the field of harder dance music hailing from the UK, absolutely smashing the UK hard scene into the 21st century. Their forward thinking genre crossing hard edge sound is gaining support from leading trance acts including Armin Van Buuren, Paul Oakenfold, Gareth Emery, Judge Hules, Marcel Woods, Marco V, Sean Tyas, Randy Katana, Lange, Simon Patterson to name a few. All the while, still remaining a firm choice in the wallets of their Hard Dance counterparts Showtek, Technoboy, Kutski, Zany, Lisa Lashes, Alex Kidd, A*S*Y*S and Scot Project. This is a rare and almost unheard of phenomenon proving that the Donors are at the forefront of a new & exciting era for dance music. Their countless number 1's this year and relentless Radio 1 plays week in week out is a testament to the boys achievements and they are now remixing on the biggest trance labels in the world, Armada, Reset, Discover, High Contrast, Musical Madness for artists such as Paul Oakenfold, Sean Tyas, Marcel Woods, Lange & Simon Patterson (The only UK harder edged act to do so) The latest DJ Mag top 100 proved that a trend for commercially acceptable harder music is coming back and the Organ Donors are proud to be a part of that resurgence.
Related Posts