Organ Donors – Rhythms Divine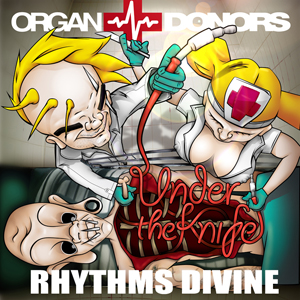 Organ Donors previous album 'Oldskool Autopsy' was championed by Mixmag and leading digital store Trackitdown and hailed as a defining bench mark in the history of Hard Dance. Following on from this, brother's Matt and Scott Harris, now present a homage to their first album 'Plastic Surgeons' – an album released to critical acclaim and huge support, featuring some of the boys biggest records to date.
The 'Under The Knife' album sees these records remixed by some of the scenes biggest names including BK, Dark By Design, DJ Choose, Mark Sherry, Vinyl Groover, Will Atkinson and many more, with these fresh, up-to-date, and ready to rock dancfloors Under The Knife remixes being released as a series of singles leading up to the full album.
This next installment of remixes taken from the album sees single, Rhythms Divine mashed up by Joe E, Sam Punk, Cally & Juice, and Organ Donors themselves, each presenting their own take on this classic anthem
Track Listing:
1) Joe E's Under The Knife Remix
2) Sam Punk's Under The Knife Remix
3) Cally & Juice's Under The Knife Remix
4) Organ Donors Under The Knife Remix
Download from iTunes
Download from Beatport
Download from Trackitdown
Download from DJ Download
Related Posts