Organ Donors – Under The Knife Album Sampler 3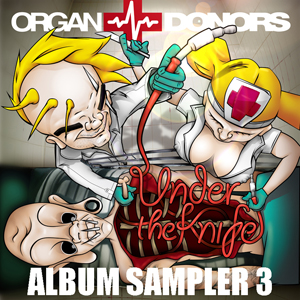 The last of Organ Donors "Under The Knife" Album Samplers is by no means the least. The package includes mixes of "Looking For Drugs" and "Whats Up?" from Dark By Design, Vandal, FJ Project and Dr. Willis "Under The Knife Album Sampler 3" is a package that finishes off with some of the finest mixes from the album.
For their 3rd album the Organ Donors wanted to try something new, flipping the whole album concept on its head and so "Under The Knife" was born, bringing on board all of their favourite artists and producers in the scene today to reinvent their stunning back catalogue in their own trademark styles – BK, Scott Atrill, Technikal, Mark Sherry, James Allan, Cally & Juice, Will Atkinson, Vandall, Dr. Willis, Vinylgroover, Zany, DJ Choose, Mac 'n' Taylor, Neal Thomas, Dark By Design, Joe E, Wragg & Log:One, FJ Project, Mark EG, Fausto, Kidd Kaos, K90, Scott Project, Luca Antolini, Louk, Thilo & Evanti, and Joey V.
Right from the start the Organ Donors wanted "Under The Knife" to be more than just an album project, it's about a full reinvention of their biggest material as new and different singles, a full UK live tour and even more so it's about collaboration and showcasing the wealth of talent emerging from the scene around the world.
Track Listing:
1) DJ Destiny Vs Organ Donors – What's Up? (Dark By Design?s Under The Knife Remix)
2) Looking For Drugs (Vandall's Under The Knife Remix)
3) Looking For Drugs (FJ Project's Under The Knife Remix – Part 2)
4) Looking For Drugs (FJ Project's Under The Knife Remix – Part 1)
5) Looking For Drugs (Dr Willis Under The Knife Remix)
Download form Beatport
Download from Juno
Download from DJ Download
Related Posts