P.H.A.T.T. – Without You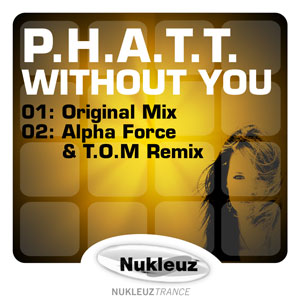 Pierre Pienaar smashes it again! "Without You" is a superb, emotive trancer that teases you with a subtle, sublime and thought provoking piano drop before firing up a spine tingling, electrifying riff that gives a nod back to the classic trance style that set Pierre's career on it's current trajectory. Contemporary yet somehow classic "Without You" offers the best elements of both all underpinned with his P.H.A.T.T. bassline and percussion grooves that really elevate this record to dance floor anthem status.
Download from:
Beatport
iTunes
Juno Download
Trackitdown
On the flipside Alpha Force & T.O.M. return the favour following a remix by Pierre Pienaar on their massive trancer "Paradice" by dropping a killer alternative trance remix. Keeping the sublime drop and the dancefloor sensibilities but introduce their own style of bouncy, pumping groove which at first adds a slightly darker edge to the track before again peaking with a classic style big riff that will get hands in the air!
Track Listing:
1) Without You (Original Mix)
2) Without You (Alpha Force & T.O.M. Remix)
BIOGRAPHY
Pierre Pienaar, for some better known as P.H.A.T.T. is one of the biggest names in the Hard Trance scene of late. He is currently with the mighty label Nukleuz, as the Head of Nukleuz Green which has released prolific productions from the likes of Mauro Picotto, Alphazone, Mario Piu and many others. At only 25, he has released over 80 singles and remixes appearing on respected labels like Nukleuz, Tidy, Monster Tunes, Emalodic, Big In Ibiza, Waterworld, Planet Traxx, Phoenix Recordings, Thrustgroove Records and has been commissioned to remix tracks for the likes of Lost Witness, BK, Ratty, CRW, Mario Piu, Ralph Novell, Mauro Picotto and even Bob Marley among others.
Pierre Pienaar is one of the A-Listers in the scene, with his tracks being playlisted by music heavyweights such as Above & Beyond, Paul van Dyk, Carl Cox, The Thrillseekrs, Dave Pearce, Judge Jules, Darren Tate and Lange and Lisa Lashes, Tidy Boys, Warp Brothers, Dave Joy, Paul Glazby, Alphazone, Cosmic Gate and Technikal on the harder side.
http://www.pierre-pienaar.com/
http://www.myspace.com/pierrepienaar
http://www.facebook.com/pierrepienaarofficial
Related Posts