Pierre Pienaar – Titan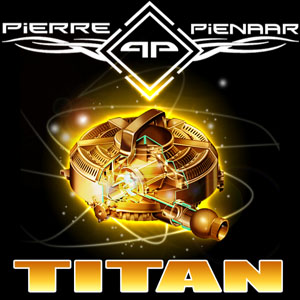 Featuring on Pierre Pienaar's Trance Adrenaline album, "Titan" illustrates why Pierre is head of his field. Throbbing basslines, lush pads and uplifting strings build effortlessly crafting a subtle feel good record fusing classic & contemporary trance sounds and ideas in Pierre's trademark style.
On the flip James G & Steve Morley provide the remixes interpreting the track in their own unique ways. James G, resident DJ at South Africa's most successful club, ESP goes deep and more electronic with a driving tech fuelled groove remix. Having opened for the likes of Armin van Buuren, Above & Beyond and 4 Strings James has established himself as one of South Africa's leading trance talents.
Steve Morley is best known for his 'Reincarnations' release, 'Samsara' under his Dave Holmes guise and being signed exclusively as Alici to Cream. Having produced since the early 90s Steve is a production master and states that he is more creative now than ever. This remix sticks closely to the original using Steve's trademark production sounds and giving the track a dream like quality.
Track Listing:
1) Original Mix
2) James G
3) Steve Morley Remix
Download from iTunes
Download from Beatport
Download from Trackitdown
Download from Juno
Download from DJ Download
Download from Amazon
Download James G Mix from Trackitdown
Download James G Mix from DJ Download
Download Steve Morley Remix from Trackitdown
Download Steve Morley Remix from DJ Download
Related Posts