Pierre Pienaar – Breeze – Out Now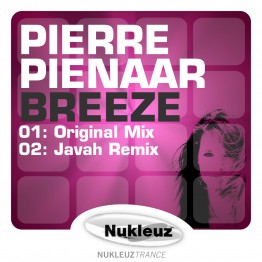 Pierre Pienaar offers his own brand of winter pick me up following the festive season. A mellow yet inspiring blend of infectious grooves, catchy melodies and uplifting pianos and synths soft enough for sunsets and strangely also tough enough for clubs. This is the unique mix that makes Pierre's productions so appealing. On the flip Javah returns to Nukleuz following 2 stunning singles "Vice Of Life" and "You And Me" which their own twist on Pierre Pienaar's "Breeze".
Javah formed in 2002 when Ronald Fiolet (aka The Shrink) and Henri Lookers created the song "Lost In A Dream" as a studio project with Ronald's son Robertino Fiolet touring as the group's DJ. Since then the guys have been building a high profile picking up support from the likes of Armin Van Buuren, Roger Shah, Pedro Del Mar, Ernesto & Bastian, Jon O´Bir, Daniel Kandi and many more!!
Track Listing:
1) Breeze (Original Mix)
2) Breeze (Javah Remix)
Download now on
Beatport
BIOGRAPHY
Pierre Pienaar, for some better known as P.H.A.T.T, is one of the biggest names in the Hard Trance scene of late. He is currently with the mighty label Nukleuz, as the Head of Nukleuz Green which has released prolific productions from the likes of Mauro Picotto, Alphazone, Mario Piu and many others. At only 25, he has released over 80 singles and remixes appearing on respected labels like Nukleuz, Tidy, Monster Tunes, Emalodic, Big In Ibiza, Waterworld, Planet Traxx, Phoenix Recordings, Thrustgroove Records and has been commissioned to remix tracks for the likes of Lost Witness, BK, Ratty, CRW, Mario Piu, Ralph Novell, Mauro Picotto and even Bob Marley among others.
Pierre is one of the A-Listers in the scene, with his tracks being playlisted by music heavyweights such as Above & Beyond, Paul van Dyk, Carl Cox, The Thrillseekrs, Dave Pearce, Judge Jules, Darren Tate and Lange and Lisa Lashes, Tidy Boys, Warp Brothers, Dave Joy, Paul Glazby, Alphazone, Cosmic Gate and Technikal on the harder side.

http://www.pierre-pienaar.com/
http://www.myspace.com/pierrepienaar
http://www.facebook.com/pierrepienaarofficial
Related Posts