S.H.O.K.K – Menage A 3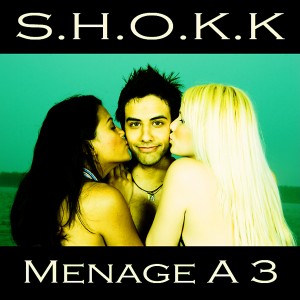 Ready to be S.H.O.K.Ked? You should be…
Following the success of their massive return, "Renaissance" (released on Nukleuz at the end of 2008) S.H.O.K.K. now present their latest piece in the form of the filthy and slightly suggestive "Ménage A 3". Mixes in this package come courtesy of S.H.O.K.K's own Sunday Brunch Mix as well as from DJ Space Raven and Angelo Bott.
The original mix kicks us off with a pumping Trancer that is sure to see them continue receiving the high level of support their previous releases have. The Sunday Brunch mix is slightly less pumping but just has ready for the clubs, keeping the big synth driven buildup. DJ Space Raven takes his mix a step further creating a throbbing Hard Trance anthem while Angelo Bott's remix takes the record on a whole different journey, completely transforming it.
S.H.O.K.K
Having discovered their passion for music early on in their school days, S.H.O.K.K (Marco Guardia & Claudio Pettannice) went on to work together for over 5 years becoming renowned for their unique Hardtrance style. Going on to hit clubs with remixes for the likes of Dave Joy and Cosmic Gate, and through released on labels such as Frankfurt based Pulse, S.H.O.K.K began to gain international recognition, leading to sets all over the globe including Australia, The Netherlands, South Africa and the UK, playing at respected events including Godskitchen, Dancevalley, Passion and OXA amongst others.
Click on the logo to download
Click here to download from AudioJelly
Related Posts