Steve Hill & Technikal EP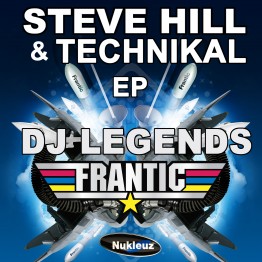 The King of Euphoric Hard Dance, Steve Hill joins forces with Technikal to remix 2 of Nukleuz's biggest hits in their own anthemic style. Firstly taking the classic hit CRW "I Feel Love" and giving it the main room sound that it has always been crying out for.
On the flip the boys revisit Technikal's iconic remix of Stu Allan's "A Feeling" beefing it up from its original 2007 version – which was played by all the biggest names in the scene – with contemporary sounds and highly polished production.
Download From:
Trackitdown
Juno Download
Beatport
iTunes
TRACK LISTING:
1. CRW – I Feel Love (Steve Hill vs Technikal Remix)
2. Stu Allan – A Feeling (Steve Hill vs Technikal 2011 Remix)
Taken from the forthcoming album "Frantic DJ Legends: Mixed by Steve Hill" out on Nukleuz on 15th August. Frantic and Nukleuz have always prided themselves on consistently working with the hottest hard dance acts in the world. Tied in to Frantic's 14th Birthday party at Koko, London, this Frantic DJ Legends series aims to celebrate the now legendary status held by some of its favourite resident DJs, starting with Steve Hill.
Pre-Order on iTunes: World (ex USA): http://itunes.apple.com/preorder/frantic-dj-legends-mixed-by/id452487695
USA: http://itunes.apple.com/us/preorder/frantic-dj-legends-mixed-by/id453138000
For more from Steve Hill visit:
www.djstevehill.com
For more from Technikal visit:
www.technikal.co.uk
Related Posts