T.O.M. & Alpha Force – Paradice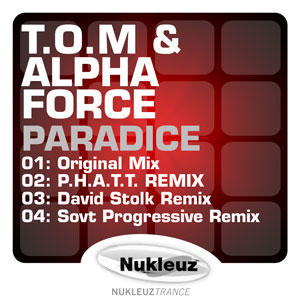 T.O.M. & Alpha Force team up once again for their second outing on Nukleuz and drop a killer original battle weapon ripe for the summer season. "Paradice" is at it's heart a gorgeous progressive trancer with lush pads and soothing melodies that hide a subtle but powerfully emotive and inspiring riff that is drenched in summer sun, beaches and relaxation.
Although don't let this fool you as T.O.M. & Alpha Force keep one eye keenly on the dance floor and show why their recent releases have found homes on Black Hole Recordings, In Trance We Trust, Fektive, Musical Madness, Spinnin and Nukleuz as well as being spun by the likes of ATB, Bobina, Tiesto, Above & Beyond, Ferry Corsten, Paul van Dyk, Bart Claessen, Markus Schulz, Alex Morph & Paul Oakenfold and more.
Add in a killer remix package featuring Nukleuz's own maestro of trance Pierre Pienaar under his tougher, club oriented guise P.H.A.T.T. who adds a jacking, electro trance mix into the package sure to get dance floors shaking. To complete the package David Stolk grabs the bull by the horns for a huge pumping trancer ripe for peak time sessions and a more progressive mix that still has an underlying punch to it truly offering a mix for all occasions.
Track Listing:
1. Original Mix
2. P.H.A.T.T. Remix
3. David Stolk Remix
4. Sovt Progressive Remix
Download from:
Beatport
DJ Download
Juno Download
iTunes
Audiojelly
Trackitdown
Biography:
T.O.M. stands for Trance-O-Matic and also, coincidently for TheO Mulder after one of it's two members, Janco Krale & Theo Mulder who properly formed in 2005 and are based in The Netherlands. Since then T.O.M. has been DJ-ing in and around The Netherlands as well as in Germany and the Czech Republic playing alongside DJs like Marcel Woods and Ron van den Beuken as well as picking up huge support from the biggest labels and DJs across the globe. T.O.M.'s fresh sounds and chill rhythms quickly made them a crowd favourite and are building from strength to strength with every release and every gig!
Check out T.O.M. on their monthly radio show called: T.O.M. Fairytales on Puresound.FM.
http://www.facebook.com/tranceomatic
http://www.tranceomatic.nl/
http://www.facebook.com/pages/Alpha-Force/139286586134846
http://www.myspace.com/alphaforcemusic