Trance Sessions Solstice Album Sampler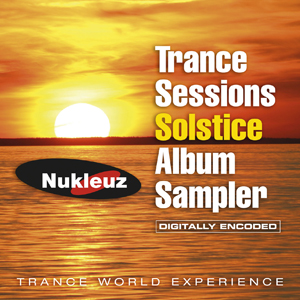 SOLSTICE: A CULMINATION OR TURNING POINT
In some ways that's exactly what this album is. It's a culmination of several years of bringing together all the best bits of trance that move in and out of Nukleuz's South London Clapham offices. It's also a great time to dance in a field with your iPod on playing great music.
2007 sees Nukleuz resigning Mauro Picotto (exclusive remix from his new album featured on this set) and signing Pierre Pienaar to head the classic Nukleuz Green label (responsible for some of the all time great tech trance tracks) with many of his new and exclusive remixes and productions showcased here including the brand new rework of Top 15 record CRW 'I Feel Love' and Mario Piu 'The Vision'.
And that is where this album sampler steps in, showcasing the 3 finest tracks on the album…
Track Listing:
1) CRW – I Feel Love (P.H.A.T.T. Remix)
2) PPD – Enjoy The Silence (Mauro Picotto Remix)
3) Mario Piu – The Vision (P.H.A.T.T. Remix)
Download from Beatport
Download from Juno
Download from DJ Download
Related Posts