Vinylgroover & The Red Hed – Everlasting 2010 – Trackitdown Exclusive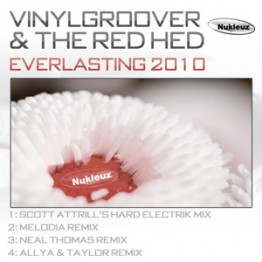 One of Nukleuz's biggest trance anthems from 2002 gets a full shiny new makeover for 2010 and a complete digital release of all the classic mixes for the first time ever! Alongside the Midnight Mix, Original Mix, Darren Styles, Edison Factor, PTP and Flyin & Storm Mixes from back in the day Vinylgroover & The Red Hed have unleashed some of the hottest talent in hard dance and trance on their remix parts and let them run wild with them. The result are 4 killer new remixes set to smash up raves & clubs worldwide for quite some time from Scott Attrill (aka Vinylgroover), Melodia (aka Pierre Pienaar), Neal Thomas and Allya & Taylor. Championed by Radio 1's DJ Kutski and in the hands of only 10 DJs so far Nukleuz team up with Trackitdown to offer you this track exclusively before even some headline DJs!
DOWNLOAD IT EXCLUSIVELY FROM TRACKITDOWN
Who better to explain about the release than one half of the dynamic duo Scott Attrill…
"Everlasting" was one of my favourite tracks produced with 'The Red Hed' & one I always wanted to remix, the breakdown is just so big room & Epic! For my mix I just bought the sounds & beats right up to date but still wanted to keep the original vibe, it's tougher, and has a tech / electro edge but the reaction has been massive. Neal Thomas is also one of my favourite producers at the moment, with at least one of his tracks featuring in every set I play, so I'm really happy he's on board, taking the drums & rhythms even darker but kicking in with some monster bass. The Final remix from 'Melodia' is equally fantastic, this is more progressive but still packing a punch, perfect for the DJ's that like the pace a little slower on their floors. The original mixes are also intact so there will be something for all here. Just in time for the summer months".
Vinylgroover & The Red Hed – Everlasting 2010
Scott Attrill's Hard Electrik Mix
Melodia Remix
Neal Thomas Remix
Allya & Taylor Remix
Midnight Mix
Original Mix
Darren Styles
Edison Factor
PTP
Flyin & Storm
Dave Louca (Nukleuz – Head Of A&R) "This was the first Nukleuz record I ever bought and it was responsible for my growing love of trance. I even played the Midnight Mix at my first ever big gig at the Matrix in Reading and it was massive. I might have turned it up a tad loud though as I blew the fuses in the sound system so that the music was playing through my monitors and my headphones but not to the crowd. So i'm really pleased to see hot new mixes of this. Loving them all to be honest, hard to pick a favourite."
Kutski – BBC Radio 1 (3/4/10)
Phil York (Lisa Lashes/Lashed Music) "Love Scott's mix of this dude!"
Nikki Elise (Total Kiss) "For me I love Scott's work so that's the mix for me – although there all really good"
DJ Choose "I really like Scott Attril´s remix and the other mixes are very good too."
Sam Townend (Tidy DJs) "Scott Attrill remix is big mate, included it on our new Bang Up For It album mix and its been going down very well!"
Cally & Juice (Ian) "[…] I really like this. The melody and chords remind me of a massive trance track I used to play years ago. Attril and Neal Thomas mixes should do really well."
Related Posts