DJ Choose & Fredin – ASD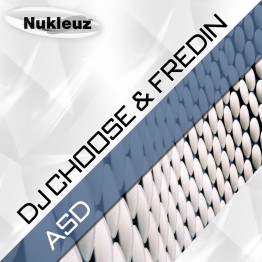 DJ Choose's solo releases and remixes have always been met by a torrent of support from top names and the whole of the scene. "ASD" is certain to improve on this impressive record thanks to the help of Scandinavian house and trance DJ, Rasmus Fredin. The track is only their first collaboration but hopefully not their last, delivering an atmospheric yet energetic trance track that offers heavy pumping basslines and thumping drum patterns blended with a euphoric feel to make up the main ingredients for a massive club hit.
The second track, remixed by P.H.A.T.T., is a progressive trance masterpiece that gives the original mix a whole new dimension, building calmly through the track despite the staccato melody line and dark synthy bass.
The third track is a high tempo tech-dance remix from Joe-E, featuring a somewhat eerie suspension through the track met with hard, loud, pumping drops.
Track Listing:
1) Original Mix
2) P.H.A.T.T. Remix
3) Joe-E Remix
About DJ Choose:
Since beginning his DJ career at 16, DJ Choose has gone on to DJ at venues all over and become a highly respected and sought after producer and remixer. He's mixed for everyone from Lost Witness to Du Monde & Judge Jules and received support from Tiesto, Judge Jules, Ferry Corsten, Dave Pearce, Eddie Halliwell, Armin van Buuren, Johan Gielen, Marcel Woods and Marco V, to name just a few.
His work also include remixes and productions for major labels such as Ministry of Sound, Universal Music, ID&T, Incentive, Nukleuz, Drizzly, Disco:Wax, Subliminal, Media records and many more. DJ Choose also runs his own two labels, Choose Choones and Chew the Club recordings.
All this has made DJ Choose a very popular DJ in many countries all over the world and one of the most respected DJs in Denmark. His preferred style of electronic music has varied a bit throughout the years, but DJ Choose has always been a big fan of banging tunes.
For more information on DJ Choose visit:
http://www.djchoose.com/
http://www.myspace.com/djchoose
http://www.facebook.com/pages/DJ-Choose/202593820235
About Fredin:
As being part of both the house scene and the trance scene for many years in Denmark, Fredin has grown to become one of the most popular DJs in Scandinavia. Fredin has a unique ability to combine house elements with progressive trance sounds and his DJ sets are always considered a very special experience due to this fact.
Fredin made his producer debut on the German label Drizzly records and already he made a name for himself in no time with his unique production sound.Already his work include remixes and singles for major labels such as Drizzly records, Nukleuz, Freose Records, Detox, Virus Audio and Diverted Music. His productions have already been picked up by DJs such as Paul van Dyk, Flash Brothers, Mark Sherry, John Askew, Graham Gold and many more.
So be sure to keep an eye out for Fredin in the future. He has conquered Scandinavia and now he is ready to conquer the rest of the world.
For more information on Fredin visit:
www.fredin.dk
http://www.myspace.com/djfredin
http://www.facebook.com/pages/Fredin/53457453539
About P.H.A.T.T.:
On remix duty is P.H.A.T.T. aka Pierre Pienaar, a name Nukleuz fans will be all too familiar with. As the Head of Nukleuz's respected Green label the spiritual home to some of the biggest trance artists including Mauro Picotto, Mario Piu, CRW and Joy Kitikonti, Pierre has signed and created some killer floor rocking tunes and this remix is one of his best to date! http://nukleuz.com/tag/p-h-a-t-t/
About Joe-E:
The one to watch out for, dubbed by Radio 1's Yoji and Kutski as the leader of the new skool Tech-Dance sound, Joe-E demonstrates his abilities with his ASD remix on the third track. At the tender age of 23, the success of his huge previous releases has rocketed his career. He has released on numerous labels around the world and gaining massive DJ support from the likes of Marco V, Eddie Halliwell, Scot Project, Mark Sherry, A*S*Y*S, Kamui,, K90, DJ Choose, FJ Project, Ernesto vs Bastian, Fabio Stein, Nish, Remo-con, Vandall, Alex Kidd & Dr Willis to name just a few. http://www.joe-e.com/
Download from:
iTunes
Beatport
Related Posts