Hard Beat: NuBreed Vol 1 – Mixed Live by DJ Thera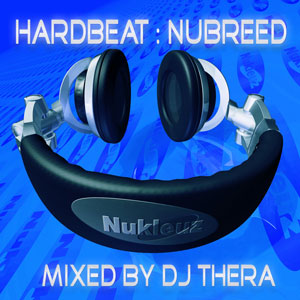 Hard Beat: NuBreed Vol 1 – Mixed by DJ Thera
Download from iTunes
The Hardbeat series was designed to be an antidote to the big budget TV advertised compilations that were dominating the market at the time and aspired to truly represent the sound of Nukleuz, its core DJs and the full spectrum of harder dance that was actually rocking the main room clubs every weekend. The series were always mixed by the biggest names to grace the main stage at all biggest events and included the biggest tracks and remixes from the BK, Illogik, Nick Sentience, Mauro Picotto, Andy Farley, Andy Whitby, Fergie, Vinylgroover & The Red Hed and many more. For 2011 the NUBREED series has been established to showcase the other great strength of Nukleuz… representing the best in undiscovered and emerging talent.
To kick off the series Nukleuz have called in DJ Thera – who's podcast last year for the label was the most successful they have ever seen and bought a unique talent into view. DJ Thera aka Pieter Heijnen covers all angles – running his own labels, DJing across the globe, holding his own label nights as well as producing. Started in 2008 his Therarecords label has grown from strength the strength with releases from Mark EG, Proteus, Yoji, Organ Donors, Louk, Warmduscher, Dj Scot Project, Hellraiser, Crypsis, Dutch Master, Trance Generators and Activator scoring more then 10 number #1 hits in several sales charts worldwide and numerous BBC Radio 1 spins from Kutski.
With bookings Pieter holds the unique accomplishment to be the first Hardstyle DJ to play in Chicago, USA and in Belfast, N-Ireland and he has played at parties like Defqon1, Q-Base, Frequence and Impulz Outdoor with Theracords label parties in Melbourne (AUS), Belfast (UK) and more coming up soon in Denmark, UK and Australia.
www.theracords.com / www.therabyte.com
TRACKLIST
Hard Beat: NuBreed Vol 1 – Mixed LIVE by DJ Thera
01) S.H.O.K.K. – Bobby Carraro
02) Mario Piu – Serendipity (Mas Mix)
03) Mauro Picotto – Awesome
04) Lava – Autumn (Megamind Mix)
05) Geck-e – Technoir
06) Megamind – Taub (Picotto Mix)
07) Danny V. – Hangover
08) Joy Kitikonti – Joyenergizer (Physical Mix)
09) DJ Thera – Ahead Of Things
10) Organ Donors – Locked Tight (Thilo & Evanti Rmx)
11) Gatty – As it Appeared
12) Cortina – Music is Moving (Luca Antolini & Andrea Montorsi Remix)
13) Dj Thera – Clash!
14) Phrantic – Become One (Fuse Mix)
15) DJ Thera vs Geck-o – Ding Dong
16) Degos & Re-done – Take A Trip
Hard Beat: NuBreed Vol 1 – Mixed by DJ Thera
Download from iTunes
Related Posts