Nukleuz In South Africa: Part 1 – Mixed by Pierre Pienaar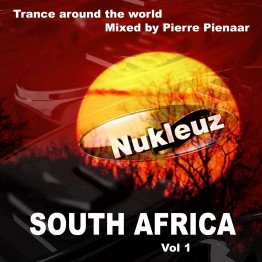 Tracks from the likes of Pierre Pienaar, Clarks, Jason van Wyk, Rachel Loy, CRW, Mauro Picotto, Mario Piu and many more! 1 epic continues DJ mix from the one and only, Pierre Pienaar.
Continuing from the Nukleuz In Canada theme adopted for the Aaron Olson mixed album, Nukleuz presents Nukleuz In South Africa! A selection of the biggest tunes from relevant to the country. Pierre Pienaar aka P.H.A.T.T. & Melodia mixes one half of a dual album project that represents the strongest material from the label and the territory with some of Pierre's own material and a whole host of big names. South Africa has always been an important territory for the music of Nukleuz Records largely due to the influence of artists we have worked with there including the likes of Pierre Pienaar and Dirkie Coetzee. Volume 1 showcases Pierre's selection of the biggest trance records to have hit his sets alongside some all time Nukleuz classics.
Download From:
iTunes
Beatport
Juno Download
Trackitdown
Tracklist:
01 Melodia – The Way [Clarks & Setrise Remix]
02 P.H.A.T.T. ft Kate Smith – Worlds Apart (Ibiza Knights Remix)
03 Melodia – Next To You [Clarks Remix]
04 Pierre Pienaar feat Marcie – If you're Not Here (Jason van Wyk's "Drifting" Remix)
05 Pierre Pienaar – Tsunami [Ian Betts Remix]
06 Rachel Loy – Big Sky [Pierre Pienaar Remiix]
07 Jason van Wyk pres. North Star – Out of Sight [Pierre Pienaar Remix]
08 Pierre Pienaar – This Is where We Are [Original]
09 Audioscape – What Now? [P.H.A.T.T. Remix]
10 BK – Revolution (P.H.A.T.T. Remix)
11 P.H.A.T.T. – Mass Destruction [DJ Space Raven's Cape Fear Remix]
12 DJ Kim – Jetlag [Alphazone Remix]
13 P.H.A.T.T. – Kanashii [Tribute To Sendai Mix]
14 S.H.O.K.K. – Renaissance [P.H.A.T.T. Remix]
15 Mario Piu – The Vision (PHATT Remix)
16 CRW – I Feel Love (P.H.A.T.T. Remix)
17 Mauro Picotto – Komodo [P.H.A.T.T. Remix]
Biography:
Namibian born Pierre Pienaar (aka Melodia and P.H.A.T.T.) is one of the most prominent names in the Trance and Hard Trance scene of late. At the age of only 25 he has racked up over 40 single releases and over 40 remixes appearing on respected labels like Nukleuz, Tidy, Monster Tunes, Emalodic, Big In Ibiza, Waterworld, Planet Traxx, Phoenix Recordings, Thrustgroove Records and have been commissioned to remix tracks for the likes of Lost Witness, BK, Ratty, CRW, Mario Piu, Ralph Novell, Mauro Picotto and even Bob Marley among others. Currently he is with the mighty label Nukleuz, as the Head of Nukleuz Green which has released prolific productions from the likes of Mauro Picotto, Alphazone, Mario Piu and many others.
Simon Eve at DJ Magazine was quoted as saying that Pierre is one of the A-Listers in the scene, with his tracks being playlisted by music heavyweights such as Above & Beyond, Paul van Dyk, Carl Cox, The Thrillseekrs, Sean Tyas, Adam White, Dave Pearce, Judge Jules, Darren Tate and Lange on the trance tip and on to Lisa Lashes, Tidy Boys, Warp Brothers, Dave Joy, Paul Glazby, Alphazone, Cosmic Gate, Dumonde and Technikal on the harder tip.
Related Posts