Nukleuz pres Hardstyle Vol 1 (Album) – Out Now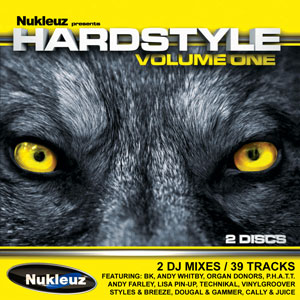 NUKLEUZ presents HARDSTYLE VOL1:
MIXED BY NUKLEUZ DJS
Download Exclusively from iTunes
Formed in 2002 for the DJ Nation series, Nukleuz DJs represented the cream of emerging hard dance talent on Nukleuz. Now for 2010 Nukleuz DJs do what they do best unleashing a DJ Mixed double CD album covering the full spectrum of harder dance including 39 of the hottest hard dance, bounce, hard trance, NRG and hardstyle tracks around. These international sounds have had a renaissance over the past 6 months growing from their core home territories of UK, The Netherlands, Germany and Australia to encompass the globe especially the USA where Hardstyle is fast becoming the most popular and fastest growing rave scene of 2010.
Featuring killer classic cuts & club anthems by scene leading UK & international resident DJs Andy Whitby, Darren Styles, Mark Breeze, Andy Farley, Bad Behaviour, Lisa Pin-Up, Organ Donors, BK, Outsource DJs, Vinylgroover, Scott Attrill, Technikal, Bass Slammers (Ministry Of Sound Tour DJs), Cally & Juice, Dougal & Gammer, JamX, S.H.O.K.K. and P.H.A.T.T. Released as a 2 x CD physical album on leading South African label F! Records, home to SA's biggest selling dance compilation "Bump" and worldwide as a full digital release of 2 DJ Mixes and 39 individual downloads on the internationally respected Nukleuz Records.
Download Exclusively from iTunes
Over various projects the Nukleuz DJs have included legends such as BK, Ed Real, Vinylgroover, Andy Farley, Nick Sentience, Mark Richardson, Darren Styles, Mark Breeze, Organ Donors, Phil Reynolds, Disco Brothers, Nick Lunn, and The Edison Factor. Now fronted by Nukleuz's own Head of A&R Dave Louca and in-house studio whizz kid JAKAZiD Nukleuz DJs have taken up the reins of this respected association of harder dance talent. Having sold over 20,000 copies and been the first 12" only release to hit the Top 40 for over a decade as well as being crowned single of the month in Mixmag, Muzik and IDJ the first DJ Nation EP series set in stone that hard dance was a strong and vibrant scene and flew in the face of falling vinyl sales. This was followed up in 2003 with DJ Nation: Bootleg Edition which went on to achieve the same monstrous level of success!
With it's new pilots at the helm Nukleuz DJs were determined to showcase the breadth of outstanding harder edged dance music that was coming through the label. This included a collaboration album with Maelstrom & Nebula DJs called Ibiza Trance Anthems 2007 which smashed into the number 1 spot in both the UK & USA iTunes Dance Chart! This was followed up by successful sequels in 2008 and 2009. This was also the era of the resurgence of Hardcore and saw Nukleuz DJs compiling and mixing CDs for Hardcore Adrenaline Vol 1,2,3 (Gut) which hit no.2 in the UK Compilations Chart, Hardcore Nation 2009 (EMI/Virgin) and Hardcore Nation Classics (Warners).
Download Exclusively from iTunes
TRACKLIST
CD 1
01) Visa 'With Every Heartbeat – Total Control Remix'
02) Branded 'You Got The Love – Branded Bounce Mix'
03) Nukleuz Kollective 'Run To You – NRG Mix'
04) Hyper DeeJays feat Jenna C 'Don't Stop Movin – Bad Behaviour Remix'
05) Phil Crawf 'Deadbeat – Original Mix'
06) Lisa Pin-Up 'Future Acid House – Flickman Remix'
07) DJ Destiny Versus Organ Donors 'What's Up? – Organ Donors Hardstyle Vocal Mix'
08) Connected ft Max'C 'A Feeling – Outsource Remix'
09) Lisa Pin-Up 'Blow Your Mind (I Am the Woman) – Stevie B Remix'
10) DJ Foe 'Boogie 2 Nite – Outsource Club Remix'
11) Audiojunkie & Stylus ft Rachael 'Free – Club Mix'
12) Organ Donors 'Blackout – Original Mix'
13) S.H.O.K.K. 'Bobby Carraro – Darling's Revenge'
14) Vinylgroover And The Red Hed 'Everlasting – Scott Attrill's Hard Electrik Mix'
15) Nukleuz Kollective 'Dreamer – NRG Mix'
16) Chocolate Party 'Pump It Up – Bass Slammers Vocal Mix'
17) JAKAZiD feat Barry Scott 'Cillit Bang – NRG Mix'
18) Darren Styles & Mark Breeze Present Infextious 'Let Me Fly – Futureworld Remix'
19) Love Assassins 'Teardrops – Kenzie & Cobain Blue Vocal Remix'
20) Cally & Juice 'Blurred – Juice's Blurry Mix'
CD 2
01) BK & dBm 'Let The Beat Go – BK's Pick It Up Mix'
02) Cortina Featuring BK & Madam Friction 'Erection (Take It To The Top) – Original Mix'
03) Andy Whitby & Matt Lee 'Everybody's Free – 2008 Bounce Mix'
04) P.H.A.T.T. ft Kate Smith 'Worlds Apart – Technikal Remix'
05) Dougal & Gammer ft. Jenna 'Heaven On Earth – Technikal Vocal Remix'
06) Cortina 'Music Is Moving – BK & dBm Amber Remix'
07) BK 'Revolution – BK's 2009 Re-Work'
08) BK & Andy Farley 'Khemikal Imbalance – Original Mix'
09) Organ Donors '99.9 – Original Mix'
10) Lisa Pin-Up 'Baddest Mutha – Original Mix'
11) Vinylgroover And The Red Hed 'Move Your Body – Original Mix'
12) Organ Donors 'Looking For Drugs – Class A Drugs'
13) Lisa Pin-Up 'F**k This F**king F**k – Original Mix'
14) Fergie & BK 'Hoovers & Horns – Ingo Remix'
15) BK & Nick Sentience 'Flash – Original Mix'
16) BK 'Funk Addiction – Original Mix'
17) Matt Lee 'Go – Original Mix'
18) Cally & Juice 'All You Bastards – Original Mix'
19) JamX 'Liebe – P.H.A.T.T. Remix'
Download Exclusively from iTunes
Related Posts