Trance Sessions Vol 5 – OUT NOW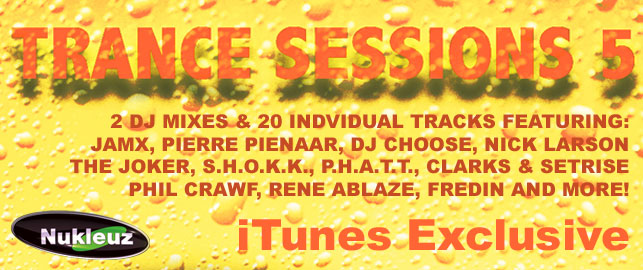 Trance Sessions Vol 5 – Out Now – Exclusive To iTunes
Download here…
2 DJ Mixes
20 Individual Download Track
Started in 2005 Nukleuz's Trance Sessions albums sought to showcase the wealth of new and exciting artists and tracks breaking through in this truly internationally loved arena. Trance Sessions 5 is no exception bringing you the best of undiscovered talent alongside artists at the top of their game including JamX, Pierre Pienaar, DJ Choose, P.H.A.T.T., Phil Crawf, S.H.O.K.K., Rene Ablaze, Daniel Loubscher, Fredin, The Joker, Clarks & Setrise and more!
Mixed in the historic Nukleuz studios that have been pivotal in establishing the label as a leading purveyor of trance and the home to trance legends such as Mauro Picotto, CRW, Mario Piu, Joy Kitikonti, Simon Foy, Alphazone, and much more this album builds on the success of the series to offer you a taste of trance in 2010.
Trance Sessions Vol 5 – Out Now – Exclusive To iTunes
Download here…
Tracklisting:
DJ MIX 1
1. Pierre Pienaar ft. Marcie – If You're Not Here (Original Mix)
2. Melodia – The Way (Clarks & Setrise Mix)
3. The Joker – Believer (Club Mix)
4. Melodia – Over You (Daniel Loubscher Mix)
5. Daniel Loubscher & Chris Q – This Then That
6. P.H.A.T.T. – Wolf (Phil Crawf Remix)
7. DJ Choose – Sea Saw (Fredin Mix)
8. DJ Choose – Stranger Danger (Digital Stories Mix)
9. Rene Ablaze – Reality (Dima Krasnik Vocal Mix)
10. Daniel Loubscher & Ilyra – Now Or Never (Manuel Juveras Mix)
DJ MIX 2
1. Fredin ft Emma Green – The Reason Why (Ciaran Fox Mix)
2. P.H.A.T.T. – The Way It Was (Powerdrive Mix)
3. P.H.A.T.T. ft. Kate Smith – Worlds Apart (Technikal Mix)
4. DJ Choose – Hack Saw
5. DJ Choose – Saw Dust (Paul Webster Mix)
6. Daniel Loubscher – Damage
7. Phil Crawf – Deadbeat
8. P.H.A.T.T. – H3X (Steve Birch Remix)
9. JamX ft Lulo – Guitarro (Nick Larson Remix)
10. S.H.O.K.K. – Bobby Carraro (Darling's Revenge)
Check out the Trance Album Sale to get some great discounts on some of Nukleuz's best trance albums!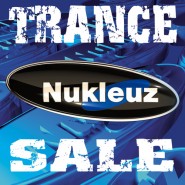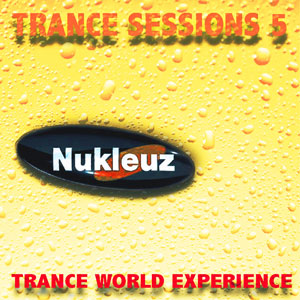 Related Posts