Lisa Pin-Up – Biography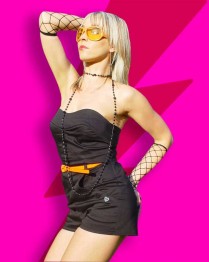 Lisa Pin-Up a hard dance icon, spinning at the largest venues for the past 14 years and still one of the scenes biggest pioneers. On the decks shes a legend, know for her unique style and an ability to turn any dancefloor into a seething frenzy. Off the decks she is a prolific producer, releasing her very own artist album "Biggest Baddest Mutha" for Nukleuz and one of the original members of the famous Tidy Girls EP.
Throughout her career Lisa Pin-Up has mixed gold discs selling compilations, set up 4 record labels, produced numerous tracks for various labels and appeared on countless magazine covers. With her media attention and show stopping performances Lisa is one of the most familiar faces in dance music today.
On top of her super busy DJ and production schedule Lisa launched her own brand tour nights across the UK titled "God Save The Queen" & "Neon Glam" These nights have been designed to capture all that is Lisa Pin-Up from the striking imagery, club visuals and decor right down to the fun and high energy all specially programmed into Lisa's sets.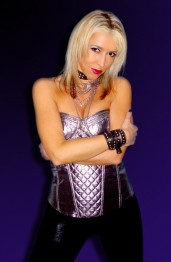 Lisa Pin-Up roared onto the scene in the late nineties with her first residency at London's most prestigious club-"Pushca" spinning to 2500 clubbers at their infamous parties. Soon after other promoters noticed Lisa's skills with "Miss Moneypennys" asking to manage her and DJ'ing on their club nights and tours. Lisa's next accomplishment was to get regular slots at Passion in Coalville and acquired a long running residency at Freedom- Bagleys film studios, spinning to thousands of clubbers every weekend for the next 5 years!
In 14 years Lisa Pin-Up's fanbase has expanded to a fanatical level gaining acclaim and adulation across the country. In Lisa's career she has gracing the decks at all thes clubs : Westfest, Global Gathering, Creamfields, Tidy weekenders, Storm, Golden, Sundissental, Q-Dance, Slinky, Passion, Slammin Vinyl, Planet Love, The Gallery, Riot @ O2 London, Gatecrasher sound System, Nukleuz events,The Syndicate-Bristol/Blackpool, Freedom, Tranzmission, Atomik Weekenders, Wakestoke, Frantic, Bionic, Goodgreef, Escape in the Park, Hi Fi, Pushca, Ministry of Sound, Pams House, Big, Love To Be, Gay Pride, Miss Moneypennys, Progress, Polysexual, The Pussycat club, Rise, Decadence as well as many clubs all around the world!
Nukleuz discography of Lisa Pin-Up
Lisa Pin-Up, Elvra & Modell – Another Jam
Lisa Pin-Up – Baddest Mutha
Lisa Pin-Up – To Love Is To Listen
Lisa Pin-Up – Future Acid House
Lisa Pin-Up – Turn Up The Sound
Lisa Pin-Up – Blow Your Mind (I Am The Woman)
Lisa Pin-Up – Sometimes We're Dancing
Lisa Pin-Up ft JoBabe – Don't Leave Me This Way
Lisa Pin-Up – Can't Top It
Lisa Pin-Up – Goes Like This (Bang!)
Lisa Pin-Up – Fuck This Fucking Fuck
Lisa Pin-Up – There's A Void (Ecstasy)
Lisa Pin-Up – I've Had Enough
Lisa Pin-Up – Be My Lover
Lisa Pin-Up – Naughty Freak
Lisa Pin-Up – Slave To Your Love
Lisa Pin-Up – What A Wicked Style
Lisa Pin-Up – Biggest Baddest Mutha (Album)
www.lisapinup.com
Lisa Pin-Up on MySpace
Lisa Pin-Up on Facebook
Lisa Pin-Up On DontStayIn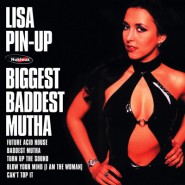 Related Posts