BK Revolution 2009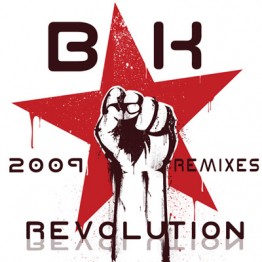 Hard dance legend BK unveils the brand new remix package of his biggest ever anthem 'Revolution' with hard dance heavyweights & BK himself remixing this all time classic alongside the original mixes.
BK "Revolution"
Original Mixes: (Download from Trackitdown)
Radio Edit
Original Mix
Extended Edit
DJ Energy Remix
Pagano Dirty Remix
Alphazone Remix
Extreme Beat Remix
2009 Remixes (Download from Trackitdown)
BK's 2009 Re-Work
BK's Festival Mix
P.H.A.T.T. Remix
Alex Kidd & Kidd Kaos Remix
Andy Whitby & Klubfiller Remix
Lee Haslam Remix
JAKAZiD Bounce Mix
JAKAZiD Hardcore Mix
Matt Preston Remix
Mr Lizard & Joshkovsky Remix
Download from:
Download from iTunes
Download from Beatport
Download from Trackitdown
Download from Juno
Download from DJ Download
Download from Amazon
BK is recognized as the most successful and prolific hard dance DJ / Producers of all time and has just been voted "Best Producer" at the 2009 Hard Dance Awards.
His "Hard House Nation" album on Warner went Gold selling 100,000+ copies, Extreme Euphoria Mixed By Lisa Lashes, BK, and The Tidy Boys on MoS become the highest-selling hard house album ever and his Hard House Anthems album on Nukleuz earned multiple awards including Mixmag "Album of the Year".
Working with Nukleuz and his own Riot! Recordings BK has produced more than 100 tracks and remixes including some of the most definitive & influential hard house tracks ever made such as "Music Is Moving", "Flash" & "Hoovers & Horns" helping Nukleuz earn the titles of Music Week Label of the Year and the UK's # 1 Vinyl label for 3 years in a row.
BK has also produced and remixed for Judge Jules, Lisa Lashes, Mario Piu, Mauro Picotto, Storm, DT8, Tony De Vit, Lab4, Christopher Lawrence, Andy Farley, Nick Sentience, Paul Masterson (Yomanda), Vinylgroover & The Red Hed, The Edison Factor and many more with releases on Positiva, Data, Ministry of Sound, NuLife, FFRR, Traffic, Lashed Music, Kiddfectious, Tripoli Trax, Mute, Kaktai, Tidy and more.
However, BK is best known for "Revolution" which in 2002 became the last vinyl only top 40 UK hit single having entered the BBC Radio 1 Daytime Playlist (a singular accomplishment for a hard dance track) following support from Judge Jules & Dave Pearce and established itself as the biggest hard dance anthem ever. Its small wonder then that BK was Runner up for the "Outstanding Achievement" award at the Hard Dance Awards!
2009 Remixes DJ Feedback:
Kutski – 4 spins on his BBC Radio 1 show.
Christopher Lawrence "I really like the BK Festival mix and the Lee Haslam mix. Both will work great on the dance floor. Revolution is one of my all time favorite tracks and I am glad to see it get new life."
Steve Hill "Rock the house… Andy Whitby Mix will get the party started!"
Adam White "Loving Lee Haslam's Mix."
Darren Tate (Mondo Records) "Full support on the P.H.A.T.T. remix"
Proteus "Great!! Rock'n roll!! I like best both BK's remix and Alex Kidd & Kidd Kaos
Cally & Juice "Really liking the P.H.A.T.T. mix & I'm loving the energy of the Whitby & Klubfiller remix. Definitely the stand-out mix of the package."
Rob Tissera "Requested for the forthcoming album 'Magna Live – The Homecoming'"
Dave Pearce "Like yr mix of BK (P.H.A.T.T.)"
Scott Attrill (Vinylgroover) "I've been supporting the BK remix since Christmas and its still featuring heavily in my sets – simply huge"
Phil Reynolds "The PHATT one is awesome. I think the all round package is really good as it offers something for everyone."
Cally Gage "My favourite mix of them all though has to be the one by Andy Whitby & Klubfiller – they have really brought it up to date and made it fun too. It sounds wicked in a club and absolutely smashes the dancefloor when it's dropped."
Related Posts