CRW on Gatecrasher Club Anthems 1993-2009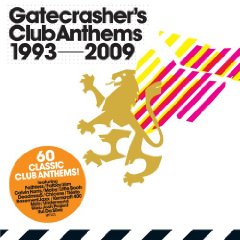 Gatecrasher's Club Anthems 1993-2009 is out this week and no collection of club anthems would be complete without CRW's massive hit "I Feel Love" featuring somewhere on the record. The classic R.A.F. Zone Mix is featured as part of a timeless collection of tunes and artists that have dominated the dancefloors across the country for the past 16 years, including Faithless, Paul Van Dyk, Deadmau5, Underworld, Utah Saints, Sneaker Pimps, Axwell, Laidback Luke, Justice, Roger Sanchez and many many more.
CLICK HERE TO DOWNLOAD GATECRASHER CLUB ANTHEMS ON iTUNES
CLICK HERE TO DOWNLOAD CRW – I FEEL LOVE
The original version of CRW's I Feel Love has a deceptivley cool Euro build-up, which drops into a huge bassline guaranteed to get the crowd moving, while the B-Side shows off Mauro playing with an unorthodox mix of pounding techno kicks, gut-wrenching bass and some Balaeric guitar melodies layered over the top.
In 2007 this unmistakable classic got the remix treatment from some of the world's hottest producers.
Related Posts